The South Korean government has decided on the makeup and duties of the committee that will investigate the cause of the 2014 Sewol ferry disaster that killed over 300 people, mostly school children.
The 53-member committee will be led by a minister-level chairman and will include officials from the maritime, interior, education and personnel management ministries, along with the National Police Agency and the Korea Communications Commission.
There will be three investigative groups, reports Yonhap news agency. The first will collect and analyze evidence from the raised ferry to determine the cause of sinking. The second will handle the search for the nine people still missing, and the third will examine the potential for preserving the wreck. Members of this committee will talk with the victims' families before submitting their recommendations to the government.
People questioned by the committee will have their identity protected, and anyone who leaks information to the media faces up to three years' jail or a fine of up to $26,304.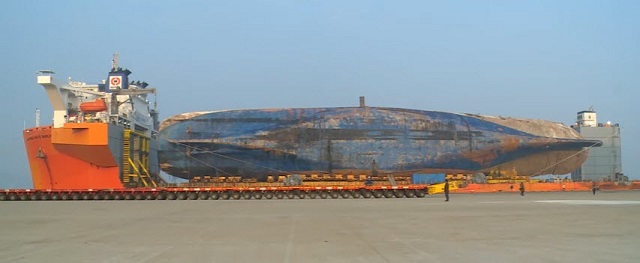 The ferry sank in April 2014, and three years later the vessel has now been raised and the search for missing victims begun. Starting June last year, Shanghai Salvage, attached steel lifting beams to the sunken ship. Installing the final six on the stern has been problematic as the stern is partially buried. Salvage operations have been hampered by poor weather, difficult geotechnical conditions and the technical difficulty of the project.
The accident has been largely blamed on the ship's illegal redesign and cargo overload, but officials have also pointed to negligence by crew members along with slow rescue efforts.
Sewol's captain Lee Jun-seok was sentenced to life in prison, the court saying that he "knowingly and totally abandoned his role when he left the ship fully aware that passengers would drown." He was among the first off the vessel, while loudspeaker announcements repeatedly instructed passengers to stay in their cabins. Defense lawyers for Lee in turn accused the coast guard of failing in their duty to rescue the passengers.
14 lower ranking crewmembers have been charged and found guilty of lesser offenses, and have received between two and 12-year jail sentences. Dozens of officials and company officers have also been prosecuted in relation to the sinking.