Zvezda Has Launched Three LNG Carriers, But Can it Complete Them?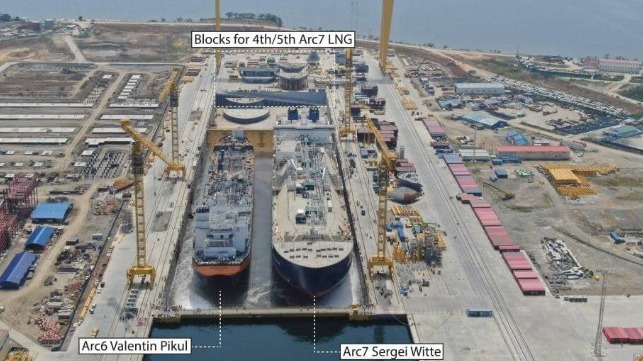 Russia's shipbuilding industry may have difficulties because of Western sanctions, but that has not prevented the Pacific yard Zvezda from completing the hull of Novatek's next icebreaking LNG carrier.
Zvezda has launched the future Sergei Witte, a specialized icebreaking LNG carrier for use at Novatek's Arctic LNG 2 plant. Novatek is the world's only user of this vessel class, and it first ordered the vessels' development from South Korean shipbuilders for its Yamal LNG plant. The 15 Korean-built ships have been transiting to and from Yamal LNG for years, transiting westbound along Russia's Arctic coast during the summer months and eastbound to Europe in the winter.
These ships are in short supply, and Novatek is already building a transshipment facility in Kamchatka in order to reduce the distance they have to travel each voyage. The development of its Arctic LNG 2 expansion plant will require a new, similar fleet.
In 2017, Russian President Vladimir Putin encouraged Novatek and its partners to localize production of the icebreaking LNG carriers at the newly rebuilt Zvezda Shipyard, located just east of Vladivostok. The activity would provide workforce development and financial support for a strategic defense facility: Zvezda is state-owned, has a long history in repairing nuclear submarines, and is laid out to handle aircraft carriers.
"Not only Rosneft but also Gazprom, Novatek and other Russian companies must . . . place orders [with Zvezda] on time. Maybe, they should submit even more orders because Zvezda certainly has the potential for handling more orders than provided for in this [development] plan," Putin said in September 2017, adding that he "will monitor this project closely."
The following month, Novatek complied with Putin's directive and said that it would enter a joint partnership with Sovcomflot to build its next 15 icebreaking LNG carriers at Zvezda.
The class uses membrane containment tank technology, which is a sophisticated, high-value specialty dominated by South Korean yards. With assistance from South Korean shipbuilder Samsung Heavy Industries and French tank technology company GTT, Zvezda has completed the hulls of the first two ships in the series, and it has now launched the third.
Zvezda has not completed a vessel of this type before, and aspiring new LNG carrier builders have had a mixed record of success - even without additional icebreaking features. Avondale Shipyard built its first three LNG carriers under a government program in the 1970s, all of which were refused by the owner over tank defects and converted or scrapped. Hudong-Zhonghua, the first Chinese yard to build an LNG carrier, encountered delays in its first few contracts as it got up to speed with tank technology in 2008-9; it would be another six years before a non-Chinese owner would place an order for a Chinese-built LNG carrier.
In August 2022, Interfax reported a meeting with Putin at which Novatek CEO Leonid Mikhelson expressed a sense of urgency about completing Zvezda's LNG carrier projects on time. Putin acknowledged that there were "difficulties that we know about" and asked that "every effort be made for the projects to be realized," promising additional state support for Zvezda.
GTT, the technology provider for the Zvezda LNG carriers' mission-critical tank membranes, backed out of the project in January 2023 because of EU sanctions exposure. In a statement, the firm said that it would only provide limited assistance for safe completion of the first two vessels in the series.