Despite Sanctions, Russia's Arctic LNG 2 On Track for Startup in 2023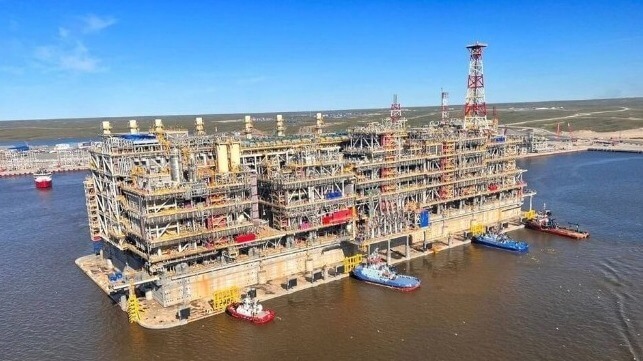 Despite sanctions related to the invasion of Ukraine, Russia's Arctic LNG 2 project is on track to go live at the end of this year, according to Chinese state oil and gas company CNOOC. The first liquefaction train arrived at its destination in the Gulf of Ob last week and is already in commissioning.
The giant LNG project initially relied on Western technology providers like Technip and Siemens, but these firms had to back out due to sanctions last year, taking their extensive experience in sophisticated energy projects with them. The first train was about 90 percent complete when they departed in 2022, but developer Novatek has been able to get the first liquefaction plant finished with the substitution of Chinese suppliers.
China has a significant investment in Arctic LNG 2, both as a financial backer and as a future customer. CNOOC holds a 10 percent share, and CNPC holds an additional 10 percent. France's TotalEnergies and Japan's Mitsui hold another 10 percent each.
The massive plant was built atop a concrete gravity-based structure (GBS), which was floated from Murmansk to the Arctic port of Sabetta in July and intentionally sunk onto a prepared permanent site last week. Commissioning is under way for the first plant now, and the two additional plants are under construction.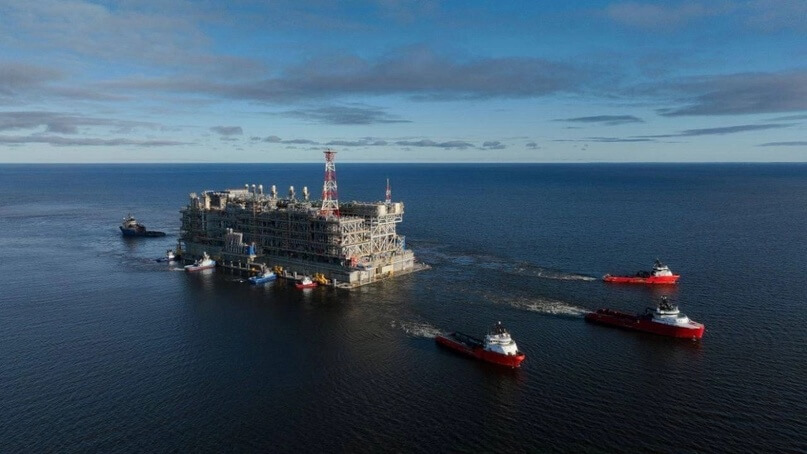 Image courtesy Novatek
According to Novatek executive Maxim Mikhalev, the second train's GBS has been finished and topsides are under construction at the firm's yard in Murmansk. Overall completion was at about 80 percent as of late April, putting train two on track for delivery to the Gydan Peninsula in 2024. The shoreside infrastructure at the port of Ultrenneye is nearly fully complete, the company says.
Some Ukrainian leaders have called for full Western sanctions on Russian LNG projects. Western secondary sanctions - that is, measures targeting all participants in a sanctioned activity, regardless of nationality - would help cut into Russian state revenues, according to Ukraine Parliament member Andrii Zhupanin. So far, Ukraine's allies have refrained from using secondary sanctions, which can have serious unintended side effects on markets and neutral nations.
"Secondary sanctions are necessary to compensate for an obvious weakness of existing primary provisions that preclude U.S. and EU companies from participating in Russian LNG infrastructure buildout, which is implicitly inviting Chinese companies to take their place," Zhupanin argued in a recent op-ed. "The introduction of secondary sanctions on Russia's LNG sector in full swing, in particular, to force a full stop of the Arctic LNG-2 project, is the obvious necessary step that the EU and the US must implement to uphold [their] stated security and climate policies."