Demonstration Uses Bio-Methanol Achieving First Net-Zero Ocean Voyage
With global interest rising in methanol as an alternative fuel for the shipping industry, Canadian methanol producer Methanex and its subsidiary Waterfront Shipping completed what they are calling the first-ever net-zero voyage fueled by bio-methanol. Methanex working along with Japan's Mitsui O.S.K. Line, which is an investor in Waterfront and owns the vessel used for the voyage, report the trip was undertaken to showcase that the pathway to net-zero emissions and the decarbonization of the shipping industry is possible today with methanol as a marine fuel.
The Cajun Sun (49,993 dwt) chemical tanker built in 2016 and on charter to Waterfront Shipping from MOL, departed from Geismar, Louisiana in the U.S. on January 17 and arrived in Antwerp, Belgium on February 4. By blending ISCC-certified bio-methanol that has negative carbon intensity with natural gas-based methanol, the companies report that they achieved net-zero greenhouse gas emissions on a lifecycle basis for the 18-day trans-Atlantic voyage.
"We're proud to bring the marine industry a tangible solution to transition towards net-zero emissions through our blended methanol product using bio-methanol produced from renewable natural gas at our facility in Geismar, U.S.," said Mark Allard, Methanex's Senior Vice President, Low Carbon Solutions. According to the companies, this fuel solution offers shipping companies the ability to achieve net-zero carbon emissions today.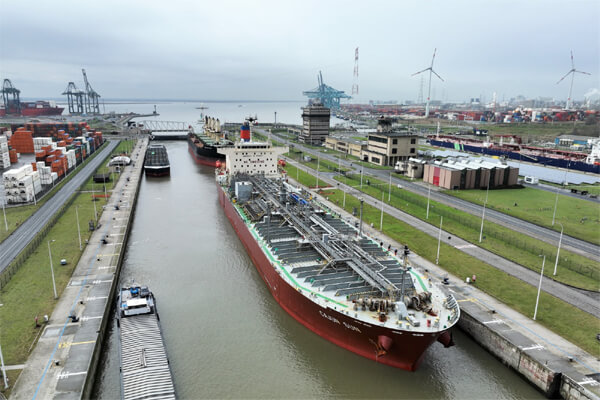 Cajun Sun arriving Antwerp at the end of the record voyage (Methanex)
Waterfront Shipping has been operating methanol-fueled ships since 2016, accumulating more than 130,000 operating hours while running on methanol according to Methanex. As of January 2023, approximately 60 percent (19 vessels) of its operating fleet are methanol dual-fuel vessels, and working with MOL they look to continue to expand the fleet.
Methanex, which calls itself the world's largest producer and supplier of methanol, reports it can produce its bio-methanol fuel blend today to help meet the increasing demand for sustainable fuels. The company has production sites in New Zealand, the United States, Trinidad, Chile, Egypt, and Canada.
"MOL, as a pioneering shipping company, is committed to reducing the environmental impact of the shipping sector," said Kazuhiro Takahashi, MOL's Executive Officer responsible for Bunker Business Division. "The use of methanol, which can be readily adopted today, is one of the very promising alternative fuels. We are also contributing to various stages of the supply chain through the development and usage of alternative fuels in the global shipping industry."
Working with Waterfront Shipping and partners, MOL built the world's first methanol dual-fuel tanker, the Taranaki Sun. She is a sister ship to the Cajun Sun which undertook this voyage. The vessels use a 2-stroke dual-fuel low-rev main engine capable of running on methanol.
Worldwide, DNV calculates that as of the end of 2022, only 24 ships were operating on methanol. However, it is projected to grow rapidly with the container shipping segment leading the industry. In addition to Maersk's order for methanol dual-fuel ships, feeder companies have also ordered methanol-fueled ships, and CMA CGM recently also ordered its first large methanol-fueled containerships to be built in South Korea. DNV's Alternative Fuels Insights database lists a total of 59 methanol-fueled ships on order for delivery by 2028. As supply lines develop for methanol, it is anticipated that more shipping companies will also turn to it as a fuel due to the relative ease of handling and the current availability of engines, and the technology to operate ships on it as a fuel.