Danish Offshore Company World Marine Files for Bankruptcy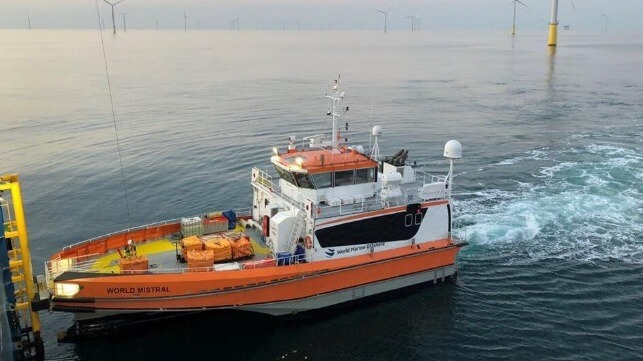 Danish shipping company World Marine Offshore, which had been one of the pioneers in developing modern offshore services to support wind farms, filed for bankruptcy this week in Denmark. Reports are that the administrator appointed by the court is already working to attract buyers with the hopes of selling the company and its assets. Previously it had been reported several companies, including ones in the United States, had explored buying the troubled company.
World Marine Offshore has gone through a series of troubles over the past few years resulting in large financial operating losses. There were disagreements in the management and strategy among the company's owners, which grew as the financial pressures mounted. At the end of 2021, it was reported that the board of directors resigned and at the end of last year it was reported that Hans Schneider CEO of the firm would step down in 2023. The company's most recent financial report showed a loss of more than $2 million.
Started in 2012, World Marine developed a fleet of crew transfer vessels using its preferred design for trimaran SWATH vessels. They are between approximately 80 and 100 feet. Among the company's achievements was deploying the first electric CTV.
The company currently has 11 CTVs operating in Europe and four additional vessels employed in Taiwan. In addition, they had signed a new agreement last year with Orsted which called for the construction of two new vessels as well as two others that had previously been ordered. The vessels were to operate on a bareboat charter. In 2021, the company also announced a joint venture with U-Ming for a jointly owned offshore company that would build and operate two vessels.
Contributing to World Marine's troubles was a failed effort to expand into the United States. In 2020, the company won a tender to supply CTVs for Patriot Offshore Maritime developing an offshore wind farm in Massachusetts. As part of the agreement, the company was to build three new vessels but lacking funds they were unable to proceed with the vessels. Patriot and the company have been fighting over the deal with Patriot suing the company for approximately $20 million.
"The bottom line is that the company has been under pressure on many fronts and in the end had no choice but to file for bankruptcy," said John Sommer Schmidt., a lawyer from the firm of Gorrissen Federspiel, who has been appointed to oversee the bankruptcy process. He told the Danish media outlet Finans that there already has been some interest from potential buyers for the company's assets.