Cruise Ship Construction Continues Apace
The rapid pace of new construction is continuing for the cruise industry. In recent weeks, five orders were announced, construction began on three new cruise ships and four others were floated or nearer to delivery.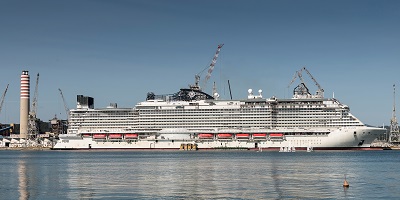 90 new cruise ships are on order, representing a investment of more than $60 billion and a 50 percent increase in the industry's total berths. Deliveries are scheduled out to 2026, but the largest group of new ships will be introduced in 2019. That year alone 23 new cruise ships with more than 42,000 berths are due.
According to industry analysts, increasing global demand for the cruises is coming from all parts of the industry and will be spread out globally. One of the largest growth segments will be in expeditions with 20 new ships on order and scheduled to begin entering service in mid-2018. In the deluxe segments, three ships were delivered this year and another 13 are on order, including Marriott International's recently announced entry into cruising with The Ritz-Carlton Yacht Collection. Eight additional ships are also on order dedicated to the Chinese market, but after three ships deployed this year, the next new ship for China is not scheduled until 2019.
Among the recently-announced orders was the first new ship in seven years for Cunard Line ordered from Italian shipbuilder Fincantieri and expected to be delivered in 2022. This will also be the first time since 1998, and the acquisition by Carnival Corporation, that Cunard Line operates four ships. The 113,000 gross ton ship with accommodations for up to 3,000 guests, is based on the Koningsdam design for Holland America Line, and will be the 249th in Cunard's history.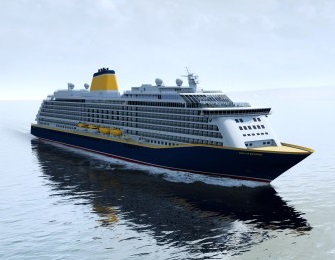 Saga Cruises has exercised its option for a sister ship to its 58,250 gross ton Spirit of Discovery whichis currently under construction at Meyer Werft, while Disney Cruise Line added a third ship to its current contract with Meyer Werft for two 135,000 gross ton ships.
Following the launch earlier this year of the 40,600 gross ton Silver Muse, Silversea Cruises ordered a sister ship from Fincantieri and signed a contract to lengthen one of its luxury ships, the Silver Spirit. Starting in March 2018, Fincantieri's Palermo shipyard will insert a 49-foot-long midsection with 34 new suites into the nine-year-old ship.
These new contracts are a continuation of the cruise industry's current growth. So far, in 2017, nine new ships have been delivered, including the Majestic Princess (Princess Cruises) and the Norwegian Joy (Norwegian Cruise Line) dedicated to the Chinese market, as well as new ships in Europe for TUI, AIDA Cruises, and MSC Cruises. Viking Ocean Cruises also took delivery of its fourth new ship on September 25, its second new ship this year.
Deliveries are pending in the coming weeks for both Dream Cruises' World Dream, which will enter the Asian market, and MSC Cruises' MSC Seaside, which is due in Miami in December.
In September, the first keel blocks were laid at Meyer Werft for the AIDAnova, the industry's first LNG-powered cruise ship, while at Meyer Turku steel cutting began for the Costa Smeralda, another LNG-powered ship. Fincantieri began construction in Monfalcone on Princess Cruises' next new ship while the launch of the Seabourn Ovation was celebrated at Sestri, and the MSC Seaview was floated out at Monfalcone.
There is no sign that the pace will slow. With consumer demand continuing to grow and the cruise lines still seeking to expand their market share, the outlook for new orders remains strong.