Crowley Supports Power Grid Restoration in Puerto Rico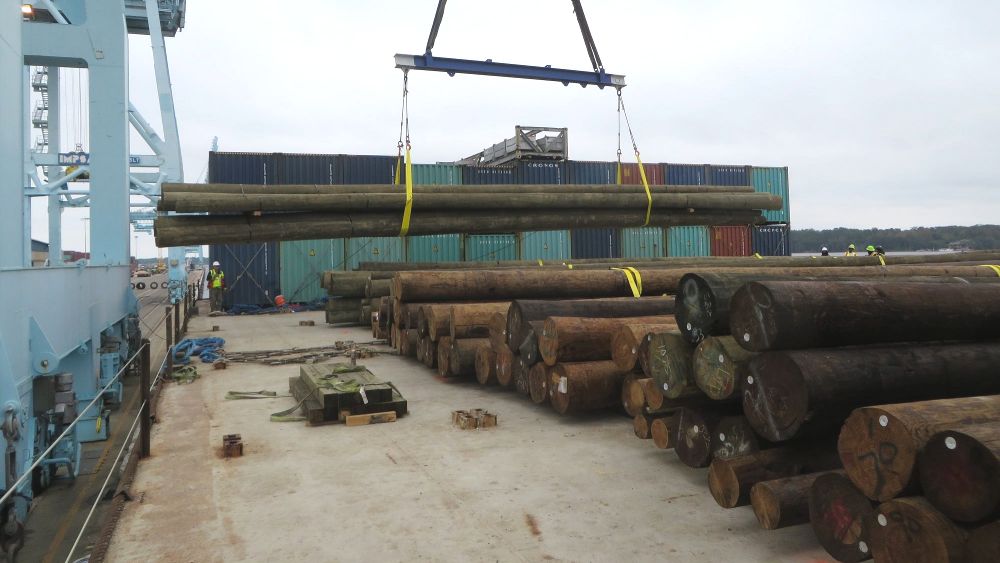 Crowley Maritime announced Friday that it will be carrying 32,000 utility poles from the U.S. mainland to Puerto Rico to help restore the island's power grid, which was badly damaged by Hurricane Maria. The weekly shipments will consist of 35-, 40- and 70-foot poles, loaded aboard flat deck barges. A second series of shipments is in the works and could eventually bring the total to 65,000-70,000 poles.
These breakbulk shipments mark the latest in a series of response voyages carried out by Crowley since the storm hit. The company has provided a constant transportation and logistics pipeline of both commercial and government relief cargo that has included 3,700 federal and 9,100 commercial loads since the storm, including 2,100 containers in in the last week alone. Crowley has bookings to transport another 2,500 relief loads to Puerto Rico in the next several weeks – a significant effort spanning more than 40 vessel sailings to date.
"The people of Puerto Rico are steadily rebuilding their infrastructure, and we are adding capacity and services to assist them," said Frank Larkin, senior vice president and general manager, logistics and commercial services. "As the supply chain mission changes, in this case to include breakbulk utility poles, our focus adapts to provide the logistics solutions."
"The company has added seven U.S.-flagged, flat-deck barges to its fleet dedicated to Puerto Rico – a 67 percent increase in capacity – offering a sailing virtually every day from the U.S. mainland," said John Hourihan, senior vice president and general manager, Puerto Rico services. "With this additional vessel capacity, Crowley will be offering 6,200 commercial cargo slots per month in November and December in addition to continued relief cargo efforts."
Upon reaching Puerto Rico, the relief cargo is being distributed by Crowley Logistics, which has more than 375 trucks on the island. The logistics group is also providing drayage, direct deliveries, deconsolidation and inventory control, as well as forklift equipment and operators to expedite the handling of air freight at the airport.
TOTE Maritime partners with local organizations
Since Hurricane Maria made landfall in Puerto Rico in September, Jones Act carrier TOTE Maritime has delivered more than 17,000 containers of relief and commercial cargo to the island, with an additional 2,500 containers scheduled to arrive in the next week. The shipments include over 8,000 generators, four million gallons of water and 760,000 bags of ice.
In addition transporting vital goods, TOTE Maritime employees in Puerto Rico have supported more than 20 organizations throughout the island and have hosted community events each week to distribute food, fuel, water and other supplies.
Eduardo Pagán, Vice President of TOTE Maritime Puerto Rico, joined with Fernando Lloveras, Executive Director of non-profit fund Para la Naturaleza to support more than 800 families in Barranquitas, Manatí, Guayama and the island of Culebra. Employees gathered in the morning to prepare food for the community, and later distributed basic need products, groceries, an ice bag, bottled water boxes and 20,000 gallons of potable water to each family. Consumer products company Unilever donated hygiene and cleaning supplies as well. "As soon as we received the offer from TOTE Maritime, we did not hesitate to add their efforts to the Community Fund Para la Naturaleza," said Lloveras.
TOTE Maritime also delivered containers filled with fuel, stoves and medicine on behalf of tennis stars Monica Puig and Maria Sharapova, who visited the island to distribute aid at the Centro Tau of the Ricky Martin Foundation in the municipality of Loíza. "I am so thankful for the help that TOTE Maritime has given me with my relief efforts for Puerto Rico. To be able to have the supplies shipped to the island in such a fast, safe and efficient manner means the world to me," said Ms. Puig, a Puerto Rican tennis player and the reigning Olympic champion.