Crowley's LNG-Fueled Con/Ro Begins Puerto Rico Service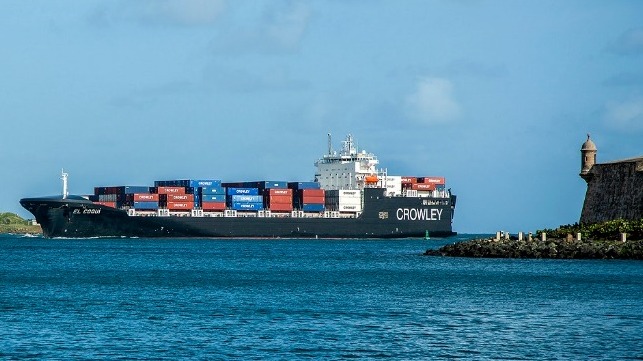 Crowley Maritime's new con/ro El Coquí has delivered its first cargo from Florida to Puerto Rico, marking the start of a new high-speed service for vehicles and consumer goods on one of the largest Jones Act routes. She departed for her inaugural voyage from Jacksonville on Friday and arrived in San Juan on Monday, carrying a full load of containers, reefers and vehicles.
El Coquí, a sub-Panamax container ship and ro-ro combined into one vessel, is among the first of her kind to be powered by LNG. She has a cruising speed of 22 knots, and she can carry about 2,400 TEU, including the 53-foot high-capacity containers that are common in the Puerto Rico trade. Within the ship is an enclosed ro/ro deck that can carry up to 400 cars and larger vehicles. Since Tote's aging con/ro El Yunque has departed the Puerto Rico trade lane, El Coquí is now the only vessel with enclosed car decks on the route.
The VT Halter-built design has a Panamax beam of 32.3 meters, and it is smaller than the limits for a Panamax boxship's draft and length. The price per vessel has not been disclosed, but Crowley says that it is investing a total of $550 million to upgrade its U.S.-Puerto Rico service, including $130 million for terminal improvements in San Juan. The construction cost for Tote Maritime's LNG-fueled Panamax container ships was about $180 million per vessel.
"The ship's reduced transit time complements major investments in technology and other infrastructure upgrades to our terminals that make it easier and quicker for our trucking partners to access our terminals for cargo moves," said Frank Larkin, Crowley SVP and general manager for logistics and commercial services. "We've also evolved our warehouse operations to bring greater efficiencies all the way through to final mile deliveries."
In San Juan, Crowley has installed three new ship-to-shore gantry cranes at its Isla Grande Terminal to speed up container unloading. According to Crowley, they are the first new STS cranes in San Juan Harbor in more than five decades. In addition, the firm has built a new 900-foot-long concrete pier at Isla Grande and expanded the terminal's capacity for handling refrigerated containers. It has also added containers and handling equipment to its fleet; constructed a new seven-lane exit gate; and implemented a new, modern terminal operating software system (TOS) to modernize cargo deliveries and exchanges.
This operation is paperless, which reduces gate-lane transaction times. At Isla Grande, the time it took a trucker to bring a container into the terminal (ingate) before the implementation of TOS averaged 45 minutes. Today, the time required is only 12 minutes, according to Crowley. Time spent at gate kiosks previously averaged six to seven minutes, and now it takes less than one minute.