Crowley Launches LNG-Powered Con/Ro for Jones Act Trade
Crowley Maritime and VT Halter have launched Crowley's new LNG-fueled con/ro, the Commitment Class vessel El Coquí. The 2,400 TEU ship is expected to enter service in the second half of this year.
"This was a special day for Crowley, VT Halter Marine and all of the men and women who designed, and who are constructing, this world-class ship," said Tom Crowley, company chairman and CEO. "We are extremely appreciative of all the work that has been accomplished so far and look forward to the successful delivery of El Coquí later this year and her sister ship, Taíno, in the first half of next year."
The El Coquí is slated for Crowley's newly expanded Jacksonville-to-San Juan run, and she and her sister ship will replace Crowley's current tug-and-barge cargo operation on the same route. The state-of-the-art vessels are part of the company's half-billion-dollar investment plan to improve services for its Puerto Rican customers. Crowley is also paying for three new gantry cranes in Puerto Rico; two million liters of LNG storage at JAXPORT; and a full-scale renovation of its Isla Grande Terminal in San Juan.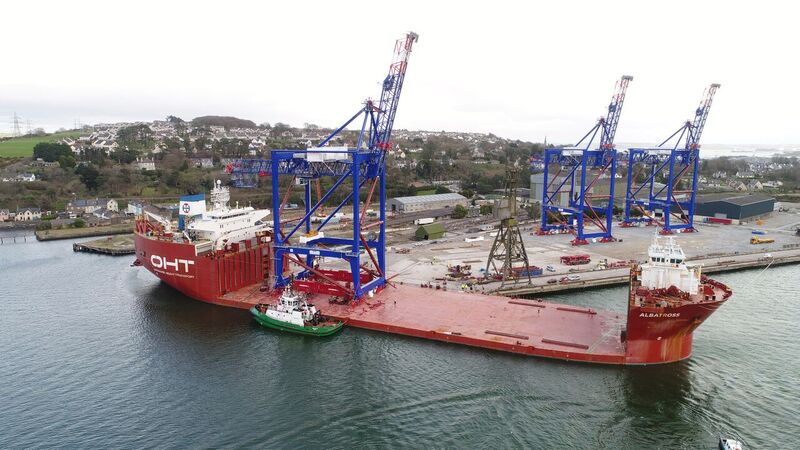 New cranes arriving at Crowley's Isla Grande Terminal
Crowley has been in the business of carrying cargo to Puerto Rico since 1954 – longer than any other Jones Act carrier – and the expansion program is an expression of the firm's continued commitment to the route. "The ships, terminal and bunkering facility represent next-generation technology built for high performance and dependable service," said Tucker Gilliam, Crowley's vice president for special projects.
Jensen Marine provided the new ships' design, and VT Halter is completing their construction at its Pascagoula, Mississippi facility. In addition to their container capacity, the new ships will be able to accommodate up to 400 cars and other vehicles. Crowley says that running the eco-friendly vessels on LNG will eliminate emissions of SOx and particulate matter (PM), and it will reduce NOx by 92 percent and CO2 by 35 percent (compared with conventional fossil fuels).
John Hourihan, Crowley's SVP and general manager for Puerto Rico services, noted that it would have been impossible to make these investments with confidence if it weren't for the Jones Act, which requires the use of American-built, -owned and -crewed ships in coastwise trade.