Crewmember Suffers Fatal Fall from Dock at Eisenhower Locks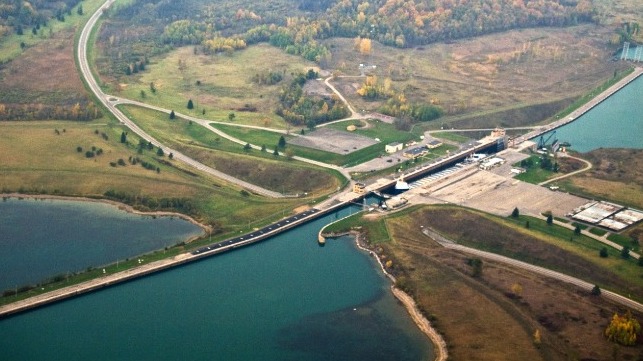 A crewmember of the CSL-owned bulker Spruceglen died Tuesday night after falling into the water near the St. Lawrence Seaway's Eisenhower Locks.
At about midnight Tuesday, the crewmember was lowered from the ship to a dock on the downstream side of the locks in order to tie off the vessel while it waited for its turn to proceed. While on the dock, he reportedly lost his balance and fell into the water.
Two St. Lawrence Seaway personnel went into the water to rescue him and reached him within three minutes; however, he was unresponsive, according to the New York State Police. They pulled him to shore, where Massena Fire and Rescue personnel helped to lift him from the water. His rescuers initiated CPR at the scene, then took him to Massena Memorial Hospital. He was pronounced dead at about 0200 hours.
Both St. Lawrence Seaway personnel who helped bring the victim to shore were also taken to the hospital and were treated for possible hypothermia.
The Seafarers International Union of Canada and Canadian media identified the victim as Quebec resident Alfred Eshun, 57. "It is with great sadness that we inform our members that last night, brother Alfred Eshun was killed while working onboard the CSL Spruceglen," the SIU said in a statement. "The details are limited at this time, but any accident is a tragedy and we ask all members to keep his family and shipmates in your thoughts and prayers. May our brother and friend rest in peace."
The U.S. Coast Guard is assisting in an investigation into the incident.
The Spruceglen is a Seaway-sized gearless bulker built in 1983. CSL's Canadian-flagged bulkers operate on dedicated trades on the Great Lakes and the St. Lawrence Seaway during the navigation season.