Grounded Crew Boat Spills Fuel off Cameron, Louisiana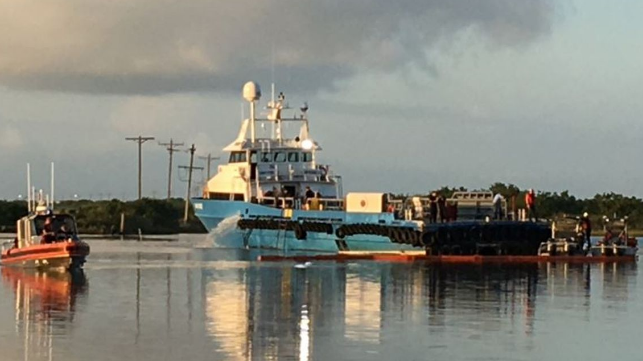 The U.S. Coast Guard and the Louisiana Department of Environmental Quality are overseeing the response to a fuel spill from the crew boat Candy Store, which ran aground late Sunday night near Cameron, Louisiana. An estimated 1,000 gallons of diesel were released due to damage to one of her tanks.
Relative to HFO, diesel dissipates quickly, and the Coast Guard says that most of the spill has already disappeared. The vessel's operator has transferred the remaining 2,000 gallons of fuel in the damaged tank into intact tanks in order to prevent further spillage.
Local Coast Guard personnel are working with the company's salvage team and divers to develop a temporary repair plan so that the Candy Store can be moved to a shipyard. The vessel's current position and state pose no threat to the safety of navigation.
Coast Guard Sector Houston-Galveston received a call from the Candy Store at midnight Sunday reporting that the vessel was taking on water. A small response boat from Station Lake Charles brought two dewatering pumps to help with the flooding, and stayed on scene to respond to the fuel spill.
The Coast Guard says that the cause of the incident is under investigation.
The 1997-built Candy Store is a 230 gt crew vessel owned by a firm based in Morgan City, Louisiana. The operator also owns the Candy Basket, Candy Machine, Candy Maker, Candy Stripe, Candy Apple, Candy Factory and Candy Land, among other vessels.