Corpus Christi LNG Terminal Ships First Cargo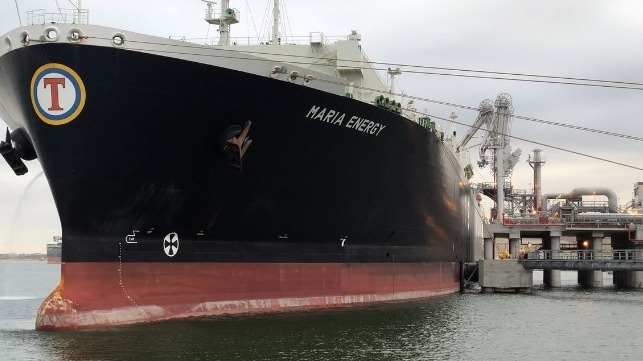 Cheniere Energy's first LNG commissioning cargo from its Corpus Christi terminal has been loaded aboard the LNG carrier Maria Energy, and is now headed for a destination in Greece. It is the first LNG cargo ever exported from the state of Texas.
According to Greece's state-owned natural gas utility, DEFSA, the cargo will be delivered to the Revithoussa LNG terminal outside of Athens.
"Exporting the first commissioning cargo of LNG from Texas demonstrates Cheniere's ability to deliver projects safely and ahead of schedule, including the first greenfield LNG export facility in the lower 48 states," said Cheniere Energy president and CEO Jack Fusco in a statement. Cheniere's previous LNG development at Sabine Pass, Louisiana took advantage of infrastructure already built for the importation of LNG cargoes, before the shale boom made America a net exporter of natural gas.
The Corpus Christi liquefaction facility consists of three large-scale LNG trains, with an additional seven smaller trains proposed. The facility's first train produced its first LNG in November and is expected to reach substantial completion in the first quarter of 2019. Train 2 is expected to reach completion in the second half of 2019, and Train 3 in the second half of 2021. At full build-out - with the seven smaller trains - the $13 billion Corpus Christi LNG terminal would have a maximum capacity of 23 million tonnes per annum.
Thanks in part to Cheniere's development plans, the U.S. is expected to propel America into a leading role in the global LNG market, according to the International Energy Agency. The U.S. is expected to account for nearly three quarters of LNG export growth in the medium term. In addition to an abundant supply, American LNG prices are typically indexed to domestic natural gas prices, not to oil, and they often come without destination restrictions - attractive features for overseas buyers. As at Sabine Pass LNG, Cheniere has already signed long-term supply contracts with buyers for much of Corpus Christi LNG's capacity.