Construction Begins On First Offshore Transfer Vessel For U.S.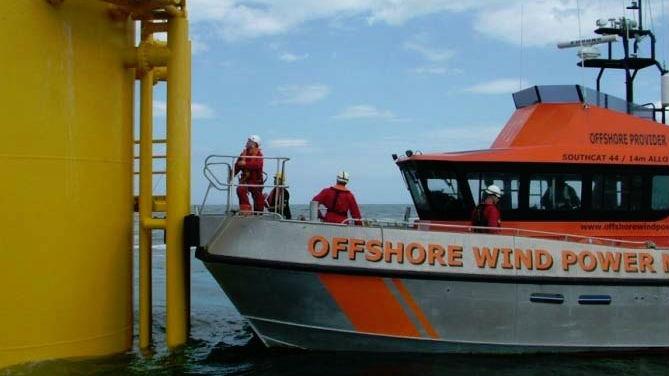 Construction has begun on the first crew transfer vessel (CTV) for the offshore wind industry in the U.S. The vessel will be built by Blount Boats for Atlantic Wind Transfers, which is the commercial wind services arm of the Rhode Island Fast Ferry. It will be launched April 2016 and will service Rhode Island's Block Island windfarm.
Block Island Wind Farm is a planned offshore wind farm expected to be the first one built in the United States.[2] It is located 3 miles (4.8 km) from Block Island, Rhode Island in the Atlantic Ocean. The five-turbine, 30-MW project is being developed by Deepwater Wind which plans to erect the Alstom Haliade 150 6-MW turbines in late summer 2016 and launch commercial operations in the fourth quarter of 2016.[1] It will be the largest project using wind power in Rhode Island.
Built under license from South Boat IOW, a British boat builder and primary supplier to the European wind industry, the vessel will be propelled with waterjets powered by a pair of Tier III MAN V-12-1200CR engines, turning 1,200 hp at 2,100 rpm.
The CTV will have a 15-ton cargo capacity and deliver components to the Block Island construction and continue as the operations and maintenance boat.