Companies Short-Listed for North Carolina Offshore Wind
The U.S. Bureau of Ocean Energy Management (BOEM) has announced that nine companies have qualified for the development of 122,405 acres offshore Kitty Hawk, North Carolina, which will be offered in a commercial wind lease sale on March 16, 2017.
The Kitty Hawk lease sale is the latest effort in the Obama Administration's renewable energy program, which recently marked the operational launch of the nation's first offshore wind farm off the coast of Rhode Island and the lease sale for over 79,000 acres offshore New York.
To date, BOEM has held six competitive lease sales, which have generated over $58 million in high bids for more than one million acres in federal waters.
The Kitty Hawk lease area begins about 24 nautical miles from shore and extends 25.7 nautical miles in a general southeast direction. Its seaward extent ranges from 13.5 nautical miles in the north to 0.6 of a nautical mile in the south.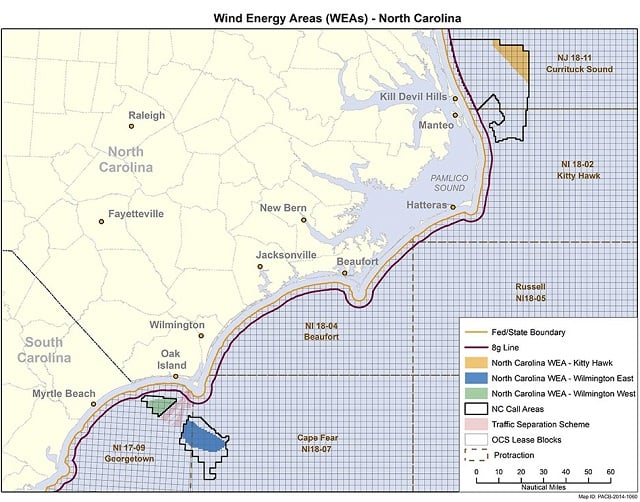 The companies that BOEM has deemed legally, technically and financially qualified to participate in the upcoming lease sale are:
Avangrid Renewables, LLC
Enbridge Holdings (Green Energy) LLC
Shell WindEnergy Inc.
Northland Power America Inc.
Wind Future LLC
Outer Banks Ocean Energy, LLC
PNE Wind USA, Inc.
Statoil Wind US LLC
wpd offshore Alpha LLC
Reuters reports that Royal Dutch Shell has come under pressure from shareholders to diversify into green energy. The company has limited experience in building offshore wind farms but last month won a bid to build a 700-megawatt offshore wind farm in the Netherlands, together with more experienced partners.
Statoil is also increasing its presence in the sector and last month secured a lease to build a wind farm offshore New York.
More Americans now work in wind than in nuclear, coal, natural gas or hydroelectric power plants, but the offshore wind energy industry is in its infancy in the United States. Deepwater Wind operates the only commercial offshore wind farm operating: the Block Island facility off the coast of Rhode Island.