Coin Ceremony Held for Costa Smeralda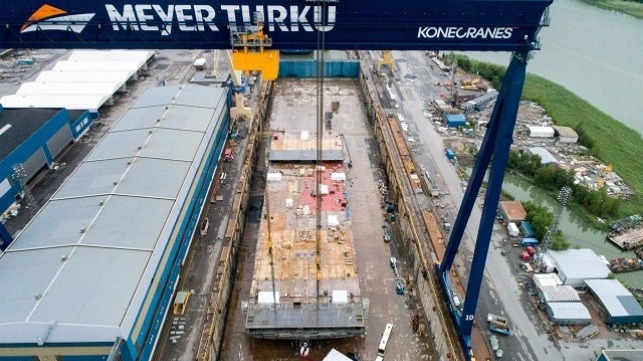 A coin ceremony has been held at Meyer Turku shipyard in Finland to mark the beginning of the hull assembly for new Costa Cruises ship Costa Smeralda.
Costa Smeralda is expected to commence operation in October 2019. The first planned cruise will start from Hamburg with stops at Rotterdam, Lisbon, Barcelona and Marseilles before reaching Savona, Italy, where a naming ceremony will be held. She will then continue to sail around the Western Mediterranean until April 2020. A sister ship to Costa Smeralda will be delivered from Turku in 2021.
Costa Smeralda will be powered by LNG and is part of Carnival Corporations' plans for bringing at least seven LNG powered cruise ships into operation. Meyer Turku has worked with sister shipyard Meyer Werft, Papenburg, to create the LNG propulsion plant for the Costa Smeralda. Meyer Turku has already delivered the LNG ferries Viking Grace (in 2014) and Tallink Megastar (in 2017).
The ceremony was an historical moment at Meyer Turku, as Costa Smeralda, a 180,000 gross tonnage (GT) cruise ship, is the largest ship the yard has built in 10 years.
"We are on the midpoint of our current ramp up project with the new crane and several other investments already in place and almost 700 new shipbuilders compared to 2014 when we came to Turku," says CEO of Meyer Turku Jan Meyer.
At the coin ceremony there was already a large part of the ship lying at the dry dock as a 140-meter (459-foot) long floating engine room unit (FERU) was towed to Turku earlier last week from Meyer's Neptun Werft, Germany. "The floating engine room unit is part of our group strategy where we try to find synergies between the three shipyards. Building these at Neptun Werft also eases the ramp up of Meyer Turku and is a showcase of the good collaboration we have among our shipyards," said Meyer.
Costa Smeralda
Classification: RINA
Flag: Italian
Length overall (approx.): 337m (1,106 feet)
Beam moulded: 42m (138 feet)
Draught max (approx.): 8.80m (28.9 feet)
Gross Tonnage: 182,700
Total passenger cabins: 2,612
Total lower berths: 5,224
Total passengers (approx.): 6,518
Balcony cabin ratio: 63.7 percent
Total crew (max): 1,682
Speed (service): 17 knots
No. of main engines: four