Cochin Port to Build New Cruise Terminal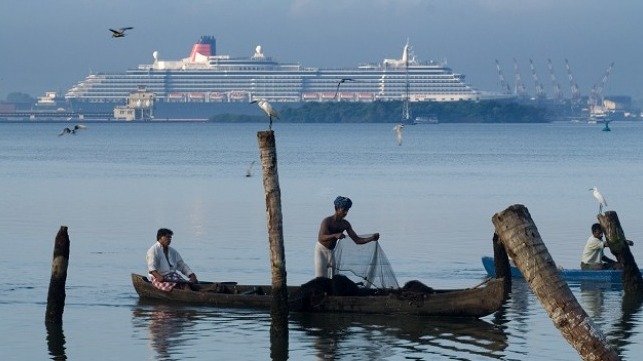 India's Ministry of Shipping has announced the construction of a new cruise terminal at Cochin Port. The news follows that of a new cruise terminal to be built at Mumbai as part of the nation's action plan to boost cruise tourism.
The new Cochin terminal will be able to handle 5,000 tourists by February 2020. The 2,253 square meter terminal will include a passenger lounge, crew lounge, 30 immigration counters, eight customs clearance counters, seven security check counters and a range of shops and other amenities.
Cochin is a prime tourism destinations and already receives around 40 cruise ships a year, and it is estimated that every cruise tourist spends on an average $400 per day during local visits. Cochin Port Trust has been promoting cruise tourism and has been offering space to local tourism entrepreneurs inside the wharf during cruise arrivals at a nominal rate to facilitate the sale of handcrafts and souvenirs.
Cruise vessels up to 260-meters can be accommodated at existing facilities, with larger vessels handled at nearby Ernakulam Wharf - which will be the site of the new terminal.
A new international cruise terminal is also being built at Mumbai, and new infrastructure is planned for Goa, New Mangalore and Chennai.
The Ministry of Shipping and Ministry of Tourism have jointly taken several initiatives to promote cruise tourism in India including, in recent years, a rationalization of tariff and visa requirements.
In November 2015, the Indian government set up a task force to boost cruise tourism. The government then formulated new guidelines in the form of Standard Operating Procedures to handle cruise vessels and cruise passengers in November 2017. These guidelines include facilitation of electronic document submission and simplified clearance procedures. They also provides for e-Landing cards for shore excursions, doing away with face to face checks except at the first port of entry and last port of exit and allowing carrying of valid photo I-card for Indian cruise passenger on domestic legs instead of a passport.
This month, the government agreed an action plan to identify attractive tourist destinations and generate awareness about them both within the country and abroad. As Mumbai would be the nation's main cruise hub, it was decided that locations such as Sassoon Dock and Sewree Fort in the city, and nearby areas like KanhojiAngre Island, Mandwa, Alibaug and Vijaydurg, would be developed as attractive tourist destinations. Mumbai will also be highlighted among foreigners as an attractive wedding destination, and the State Tourism Department will arrange reception activities like cultural shows for cruise ship arrivals.
India will host 120 calls at its various ports in 2018. Mumbai will see the most calls at 48, followed by 32 in Cochin. Consultants for the Shipping Ministry have projected that the number of cruise tourists in India is likely to reach 4.5 million by 2043.