USCG Conducts First Rescues of Hurricane Michael Response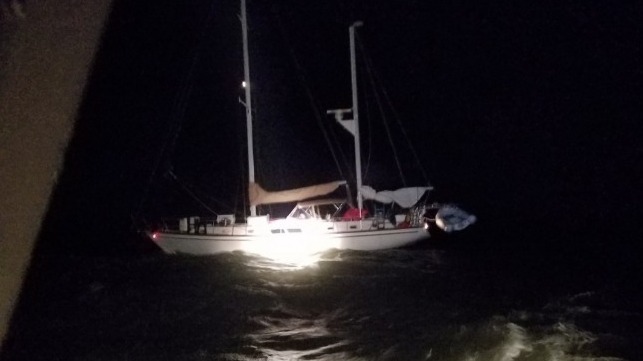 On Wednesday, as Hurricane Michael neared shore in the Florida Panhandle, Coast Guard servicemembers near Fort Myers Beach, Florida rescued two sailors from a 50-foot sailing yacht after she ran into trouble with weather. It was the second marine rescue the USCG has made due to the far-reaching effects of the storm.
At 2143 hours on Tuesday evening, Coast Guard Sector St. Petersburg received a mayday call from the master of the Old School (audio below) at a position off Boca Grande, about 220 nm to the southeast of the storm's center. The skipper reported that the vessel was beset by heavy weather and needed assistance.
Wave height on scene was eight feet, below gale conditions. A Station Fort Myers Beach 45-foot boat crew responded to the scene and transferred the two people from the sailboat back to shore. There were no reported injuries.
"We cannot reiterate it enough - this storm is dangerous," said Cmdr. William Walsh, the deputy commander for Sector St. Petersburg, in a statement Wednesday. "Even though the hurricane passed, mariners must monitor the weather and take small craft advisories seriously."
Coast Guard prepares for disaster response
As Hurricane Michael made landfall in Florida, Coast Guard teams began preparing for the response effort that will follow in its wake. At Air Station Clearwater, aircrews prepared Hercules long range SAR aircraft and the service's iconic rescue helicopters to surge into the affected area (below).
Coast Guard helicopters staged at Air Station Clearwater, Florida (USCG)
In Kings Bay, Georgia, Coast Guard boat crews brought out their shallow-water rubber rescue boats to make sure that their equipment was ready to go when needed. At Station Yankeetown, Florida, small boat crews inspected their rescue launches in preparation for emergency response calls. And at Coast Guard Aviation Training Center Mobile, Alabama, just across the state line from the Florida Panhandle, helicopter aircrews from Corpus Christi, Houston and New Orleans staged to surge in if their services are needed.
Coast Guard rescue helicopters staged in Mobile, Alabama, in preparation for the response effort (USCG)