Co-op, Sainsbury's and Tesco Sign IUU and Slavery Charter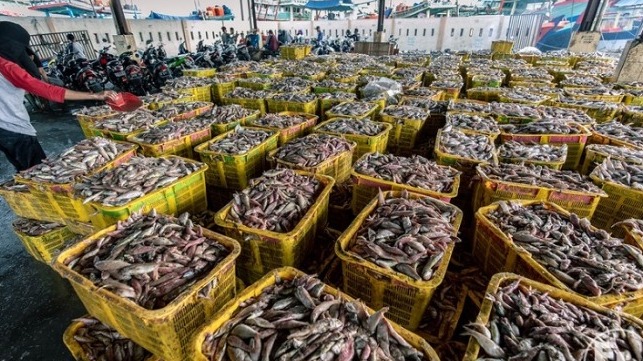 Tesco, Sainsbury's and Co-op are the first to sign the Environmental Justice Foundation's Charter for Transparency, designed to help supermarkets ensure their seafood supply chains are free from illegal fishing and human rights abuse. Together these major retailers make up over half of all groceries sales in the U.K.
The NGO says it is also having positive discussions with several other supermarkets and hopes to announce further commitments soon.
Out at sea and far from law enforcement, crew are vulnerable, and unscrupulous owners can act with impunity. Illegal, unreported and unregulated fishing presents a grave threat to the world's fish stocks, which are already on the brink of collapse. A third of fish stocks are being exploited at unsustainable levels, with a further 60 percent of fisheries fished at maximally sustainable levels. Combatting illegal, unreported and unregulated (IUU) fishing is a target of the United Nations Sustainable Development Goal 14 (Life Below Water).
A lack of transparency in the global seafood industry enables illegal operators to create confusion around their identities. They can escapeg detection by changing vessel names; concealing ownership; flying different flags or removing ships from registers entirely.
Supermarkets are a vital link in the chain and can do much to demand change, says EJF. The charter includes detailed recommendations retailers can use with suppliers to make sure no boat associated with illegal or unethical practices taints their supply chain. Central to this is the use of traceability systems that allow fish to be tracked from net to plate, accompanied by necessary evidence showing it was caught legally and ethically. These can be backed up by third party audits.
In addition, supermarkets have a powerful voice that they can use to call on governments to make critical reforms. The charter calls on them to support the adoption of EJF's 10 principles for global transparency in the fishing industry. These simple, low-cost measures – which include publishing license lists and giving vessels unique numbers – are well within the reach of any country and can play a pivotal role in the battle against illegal fishing and human rights abuse in the sector, says EJF.