CN, Prince Rupert Partner for High Container Volumes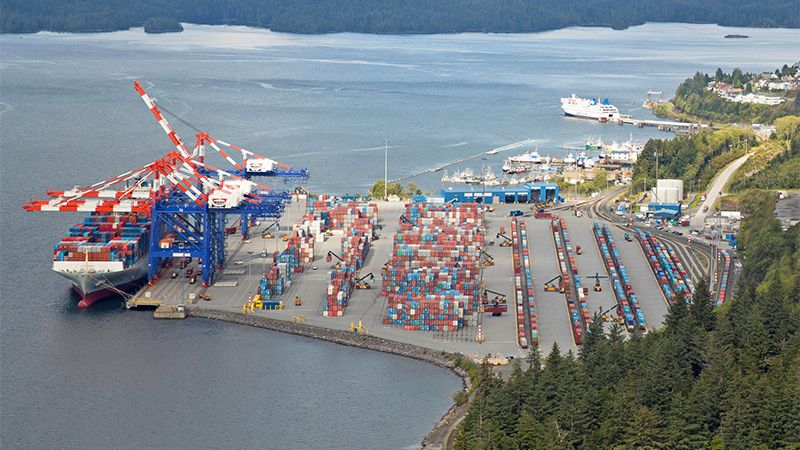 The ports of Prince Rupert and Vancouver, B.C. are receiving more and more cargo from Asia, in large part because of an excellent rail connection with the American heartland. Prince Rupert is the closest North American container port to East Asia – about 1000 nm and two days closer than Los Angeles / Long Beach - and its rail link across the Canadian Rockies and down to Chicago takes only five days.
Prince Rupert has a capacity of 850,000 TEU per year, and it saw container volumes grow by 26 percent in 2015 – making it the fastest-growing intermodal port in North America. "We've seen growth every year in the past nine years, except one. We've been the fastest growing container terminal in North America for most of that period," said Shaun Stevenson, the port's VP of public affairs, in a recent interview with Canadian Sailings. The port has also added a new weekly service string with the 2M Alliance, locking in regular volumes. With all the new business, it is already planning to expand its facilities to handle 1.3 million TEU.
Canadian National Railway's link to Prince Rupert is what makes the port's growing container business possible. It has invested in a new long rail siding next to the port's Fairview container terminal to accommodate growthin in container volume, and it says that it will be able to schedule four trains a day in and out of the port once expansion projects are complete.
Beyond its role in enabling the growth of North American ports, CN is also recognized in Canada and abroad as a socially responsible partner. It is on the non-profit CDP's Climate A List for its efforts to reduce locomotive CO2 emissions intensity – down 20 percent – and for its industry-leading average fuel economy.
"We believe that rail can be an integral part of the climate change solution offering both environmental and economic advantages. Compared to other transportation modes, rail is the most fuel-efficient method of moving freight over land – on average, trains are approximately four times more fuel-efficient than trucks," says Luc Jobin, CN's CEO and president.