CMA CGM Sees Volumes and Revenue Rise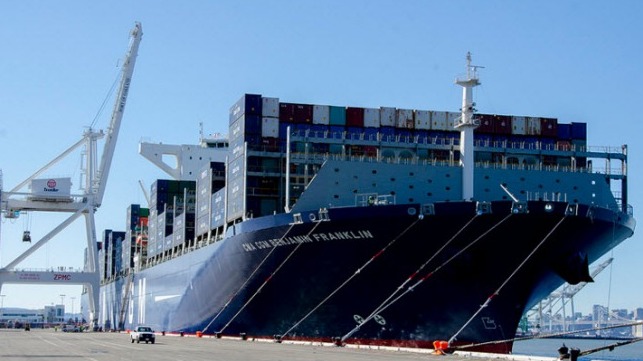 CMA CGM has released its third quarter results saying that volumes have risen 5.5 percent and revenue is up 6.3 percent compared to the third quarter in 2017. The group's net income was $103.1 million.
Over the period, CMA CGM exceeded five million containers shipped. This increase is attributable to the strength of most of the trades, particularly the Transpacific, India/Oceania and Africa lines.
Revenue per container in the third quarter of 2018 increased slightly compared to the third quarter of 2017 (0.8 percent), as well as compared to the second quarter of 2018 (4.9 percent). Consequently, revenue in the third quarter of 2018 rose by 6.3 percent to $6.06 billion.
Unit costs rose by 7.7 percent ($77 per TEU), mainly due to the market price of fuel, resulting in an increase of $55 per TEU compared to the third quarter of 2017. This was only partially offset by the introduction of an Emergency Bunker Surcharge.
Rodolphe Saadé, Chairman and Chief Executive Officer of the CMA CGM Group, said: "In a context of sharply rising fuel prices, CMA CGM core EBIT margin recorded a significant increase compared to the second quarter of 2018, at 4.0 percent. In a market growing by 2.5 to three percent, the increase in volumes shipped by CMA CGM demonstrates our commercial drive and the quality of service offered to our customers."
As CEVA's major shareholder since the company's IPO in May 2018, CMA CGM signed a new cooperation agreement with CEVA on October 24 to strengthen their development project. The agreement provides for the lifting of the tag-along obligation and the launching of a takeover bid by CMA CGM, which is expected to be announced by November 30.
Speaking on CEVA, Saadé said: "By strengthening the partnership with CEVA, CMA CGM is actively engaging its logistics strategy. Our ambitious development project for CEVA was approved by its Board of Directors. Subject to approval from the regulatory authorities, this project will accelerate CEVA's transformation, making it a more efficient logistics leader, to the benefit of its customers, employees and shareholders. Via a takeover bid, we hope to obtain the majority of CEVA's share capital and unleash its full potential."
During the quarter, the CMA CGM Group signed an agreement with SHONE. This U.S. based start-up is working on embedding artificial intelligence on board ships. CMA CGM also rolled out its offer of connected containers using Traxens technology. This technology allows real-time monitoring of the container's position, the intensity of impacts sustained, changes in temperature and humidity and the detection of doors being opened.
CMA CGM and its subsidiaries have signed a number of agreements to develop Blockchain technology in the shipping industry. More particularly, CMA CGM is developing a project for blockchain-secured electronic "bill of lading" with the start-up BuyCo, in which the Group has recently invested.