CMA CGM Plans Terminal Investments as Port of NY/NJ Leads Growth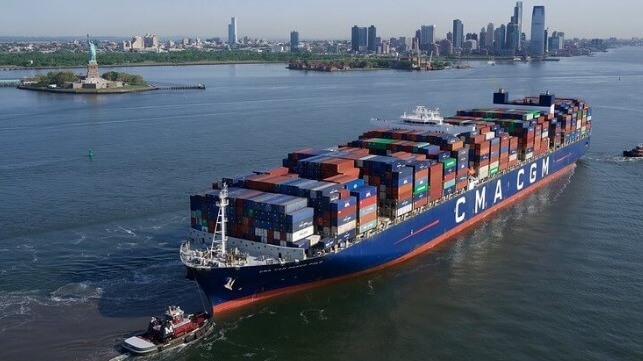 CMA CGM plans to make large investments to expand its container terminal capacity at its facilities in the Port of New York and New Jersey after completing the acquisition of Global Containers Terminals (GCT). This comes as the East Coast port continues to outperform the West Coast ports and looks to consolidate its position as the leading Atlantic Coast port.
CMA CGM is calling its newly acquired facilities in New Jersey and New York its "flagship terminal operations at a critical entry point on the U.S. East Coast." Announcing that it had finalized the acquisition on August 31, CMA CGM said it intends to further develop the two terminals as the group also looks to strengthen its position as a global port terminal operator.
The acquisition of GCT was announced in December 2022. The company's two terminals, located in Bayonne and Staten Island, have a total capacity to handle approximately two million TEUs annually. They will remain multi-user terminals.
CMA CGM reports it will continue the development of Bayonne's Berth 3. When completed, it will have a 55-foot depth with the capacity to handle vessels with 18,000 TEU. It is part of a larger expansion efforts through which CMA CGM looks to increase terminal capacity by 50 percent during the next 10 years, including investments to create additional yard and berth capacity. They also plan to improve highway and rail access to the terminals.
The growth comes as the Port of New York & New Jersey continues to show strong growth. Port officials have highlighted to the consternation of the West Coast ports that NY/NJ is handling the greatest number of containers over the past few months in the U.S. In July, NY/NJ's volume was up a staggering 16 percent to 725,479 TEU. This came as the Southern California ports both reported continuing declines in monthly volume. Los Angeles topped just over 674,000 TEU while Long Beach came in at just over 578,000 TEU in July. West Coast observers have noted however that a fair comparison would be the combined total of the two SoCal ports when comparing the operation to the Port of New York and New Jersey which incorporates several facilities.
The acquisition of GCT is part of the French group's overall efforts in the U.S. They will now have a total of seven U.S. terminals after also acquiring Fenix Marine Services which operates a terminal in the Port of Los Angeles.