CHIRP: Latest Bulletin Discusses ECDIS, Fatigue and Pilot Ladders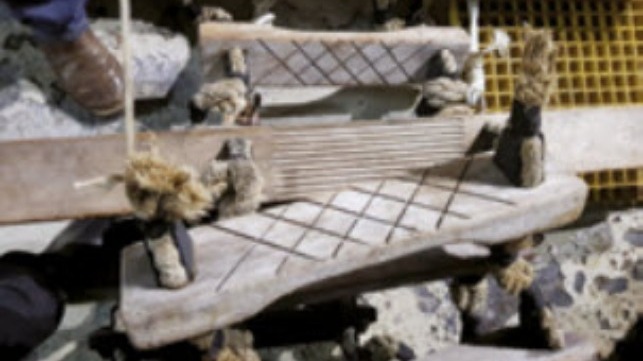 The CHIRP Charitable Trust has published Maritime Feedback 54, its first bulletin of 2019 which contains reports on lifting operations, rigid hull inflatable boat operations, AIS and ECDIS offsets and heat and fatigue.
The issue of pilot safety is also raised through a report of a combination ladder deficiency and the follow up which involved both the port authority and the regulatory authority (Port State Control).
This vessel presented itself for a pilot boarding with the following deficiencies:
• The accommodation ladder was steeper than 45 degrees and was not secured to the ship's side, while the pilot ladder was not attached to the ship's side 1.5m above the accommodation ladder platform.
• The accommodation ladder was attached to the pilot ladder, but neither the accommodation ladder nor the pilot ladder were attached to the hull - despite all the necessary sunken fixtures being available.
• Catastrophic rust was noted in way of stanchions and fittings.
• Manropes were rigged incorrectly, had knots or splices in the length of the rope, and were fitted with spliced eyes and shackles on the end of the rope.
There was only a very limited spoken English on board, leading to communications difficulties when trying to rectify the situation. The manager of the Port Authority wrote to the vessel's managers detailing the deficiencies and requiring them to examine the arrangement. The vessel was instructed to replace any equipment which did not meet the required standard (in this case the country's regulatory enactment of SOLAS V23).
The managers were informed that if the vessel presented itself at the port in the future with a deficient pilot transfer arrangement, then the pilot service would be refused. The port now requires the ship's pilot ladder certificate as part of its pre-arrival regime, and this has already raised awareness of such issues.
The CHIRP analysis says: "Historically the tendency to deal with deficiencies was to use phraseology such as "The next time you visit we will…" This report demonstrates that when a vessel turns up ill equipped, this regulator is prepared to take immediate action. Hitting owners and managers in the pocket by delaying the ship will certainly get their attention and help change behaviors."
This bulletin is freely available online in three languages; English, Chinese and Filipino here.