Chinese Vessel in Distress Attracts Help - And Suspicion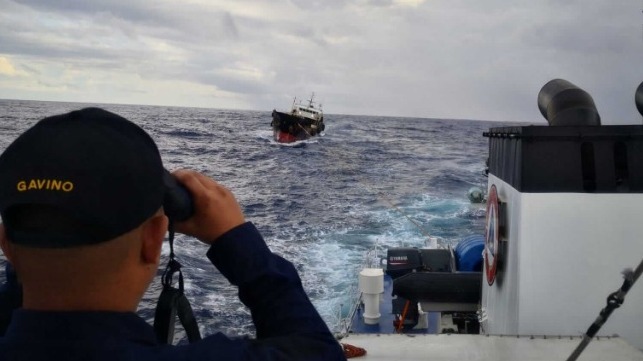 The Philippine Coast Guard has rescued the crew of a Chinese vessel off the coast of Samar, an island on the eastern side of the archipelago. The vessel was taken in tow and brought to Tacloban, but its mission and the identity of its crewmembers are unclear, according to the PCG.
The PCG received notice that the small vessel Kai Da 899 was in distress on Thursday afternoon. The cutter BRP Cabra was dispatched to rendezvous with the Kai Da at a position off Suluan Island, south of Samar. On Friday, BRP Cabra met up with the distressed vessel, which was initially reported to have hull damage. The crew of the Cabra established a tow and brought Kai Da 899 and her seven Chinese crewmembers into a port of refuge at Tacloban. No injuries or pollution were reported.
"Glad to know the seven Chinese fishermen on board are in good physical condition," said Chinese Ambassador to the Philippines Huang Xilian in a statement after the rescue. "Our sincere gratitude and deep appreciation . . . [for] humanitarian efforts to help the Chinese fishing vessel and 7 Chinese fishermen on board."
While Ambassador Huang's thanks were welcomed, maritime tensions between the Philippines and China are high, and the PCG was concerned by the vessel's strange circumstances. Kai Da 899 had no fishing gear on board. She also had no documentation, and her crew were initially reported to lack identification or licensing of any kind.
"All they are saying is that they are from China. It has not yet been established specifically where in China and also the registry number of the ship has not yet been given," PCG spokesperson Commodore Armand Balilo told Philippine outlet 24 Oras. "If there are illegal activities based on inspection and questioning and the coastal state has doubts, then we have the right to detain them, especially if they don't have papers."
Nothing illegal was found in a sweep of the ship. In a later update, the PCG said that the vessel had not sustained hull damage or flooding, but had lost steering and had gone adrift for five days.
Kai Da 899's history and status are unclear. She has no IMO number, and the last AIS signal received from a vessel of that name was recorded in October 2019.