Chinese Vessel Comes Within 100 Yards to Block Philippine Coast Guard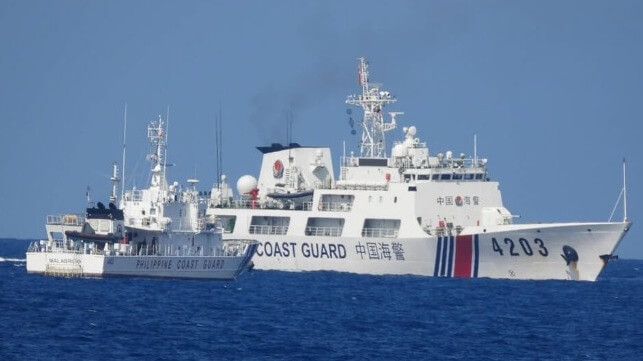 The Philippines is reporting a new encounter between vessels from its Coast Guard and the Chinese last Friday, June 30, in the disputed region of the South China Sea which the Philippines calls the West Philippine Sea. A spokesperson for the Philippine Coast Guard, Commodore Jay Tarriela, detailed "aggressive actions" of the Chinese Coast Guard vessels in the area near Ayungin Shoal (Second Thomas Shoal) in the contested Spratly Islands.
The Philippines maintains a base on a World War II-era naval ship at Second Thomas Shoal. The Philippines asserts sovereignty over the area and in 2016 won arbitration against China in The Hague confirming the Philippines' rights to the area.
According to the report, the Philippine Coast Guard vessels BRP Malabrigo and BRP Malapascua were being constantly followed, harassed, and obstructed by significantly larger Chinese vessels. The incident began as the Philippine vessels came within 12 nautical miles of the shoal. The PCG vessels were escorting a resupply mission to the shoal.
"It appears that the CCGVs are exerting additional effort to prevent the PCG from reaching Ayungin Shoal," said Commodore Tarriela.
Recounting the incident, he reported that the Chinese vessel had come within 100 yards of the PCG vessels. He said their vessels were forced to decrease their speed. In addition, the Chinese vessel was challenging the Philippine Coast Guard on the radio.
"The PCG is deeply concerned about the presence of two PLA-N vessels in Ayungin Shoal," said Tarriela while saying the Chinese actions "blatantly disregard the Convention on the International Regulations for Preventing Collisions at Sea (COLREGs) in their attempts to obstruct passage and discourage the PCG vessels from approaching Ayungin Shoal."
Discussing the Chinese presence in the area, the PCG said, "This is particularly alarming as the Philippine Navy's naval operation is solely humanitarian in nature. Despite this, the Chinese have deployed their warships, raising even greater concerns."
The Philippine Coast Guard vessels were ultimately able to complete their mission and have now returned to their normal areas of operation.
It however was the latest in a series of encounters between the two countries in the region in recent months. It comes despite overtures between Beijing and Manila to start communications to help settle the maritime dispute.
There was a similar encounter between the two sides in April when the Malapascua also attempted to approach the shoal. In that instance there happened to be reporters aboard the Philippine vessel. In February, the Philippines accused China of using military-grade lasers in an attempt to interfere with another resupply mission.