Chinese Training Ship Makes Goodwill Visit to Manila to Ease Tensions
A training ship from China's People's Liberation Army Navy is making its first-ever visit to Manila in the Philippines and the first visit by a Chinese navy vessel in four years. Highlighted as a goodwill visit and part of a larger regional tour, it is seen as an effort to ease the recent tensions between China and the Philippines and to blunt some of the efforts by the government of Ferdinand Marcos Jr. to grow closer to the United States.
The 535-foot long Qi Jiguang, which has a full load displacement of more than 9,000 tons, is the largest training ship in the Chinese fleet. Chinese officials highlight that it is larger than a typical destroyer and carries 476 navy students and officers from the Dalian Navy Academy. The ship was commissioned in 2017.
China's ambassador to the Philippines said that during the visit they will be meeting with their counterparts in the Philippine Navy. The ship which arrived on June 14 and remains in port through June 17 will also be opened to the public for visits.
The ship departed China on what is reported to be a 40-day goodwill mission across the region. The training ship arrived in Manila on Wednesday morning from Brunei with a carefully orchestrated crowd waving small flags and a traditional Chinese dragon dancer. The ship departed China in May and has also made visits to Vietnam, Malaysia, and Taiwan.
It is the first time since January 2019 that a Chinese vessel has visited the Philippines. Then three Chinese vessels as part of a regional task force made a five-day goodwill visit.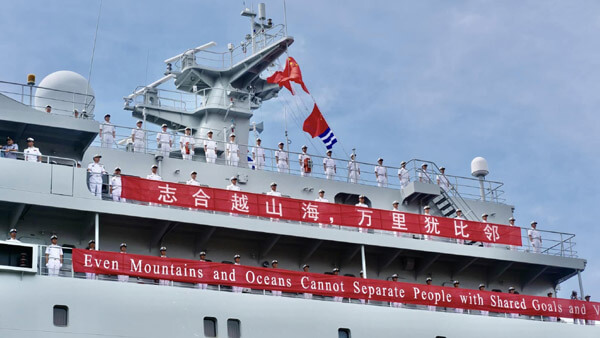 There was no mention during the current visit of the recent tensions between China and the Philippines or the interactions in the South China Sea. The Philippines has accused Chinese forces of unprofessional activities including running dangerously close to a Philippine Coast Guard vessel and risking a collision just two months ago. Earlier in the year, the Philippines accused the Chinese of using a laser to temporarily blind their crew and prevent the ship from crossing into disputed waters. The government has declared that it will continue to take action to protect Philippine waters from Chinese aggression.
The Marcos government earlier this year began providing wider access for U.S. forces. They had also lobbied for a joint training exercise. Just last week, the U.S. along with Japan conducted a joint coast guard law enforcement exercise with the Philippines. As part of the three conducted a series of drills.
The Chinese ambassador said the current visit will include the traditional exchanges between the two militaries. They would also seek to implement "the important consensus between the heads-of-state of China and the Philippines."
A senior officer from the Philippines responded that Filipinos are friendly by nature. He said they would be extending their traditional hospitality during the visit.