Chinese Internet Companies Combating Wildlife Crime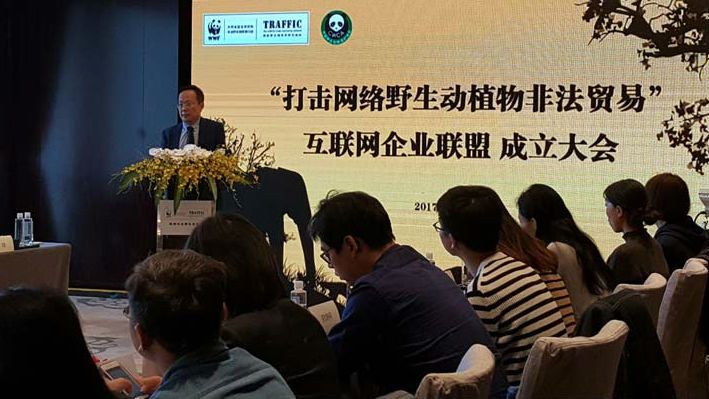 China's biggest internet companies have formed an alliance to combat wildlife cybercrime.
The three lead companies, Baidu, Alibaba and Tencent, supported by an additional eight Chinese internet companies, decided on an alliance due to the magnitude of the challenge in addressing wildlife cybercrime given there are hundreds of millions of users online.
Environmental organization TRAFFIC's routine online monitoring in China has revealed the shift of illicit trade in wildlife products from physical markets to e-commerce marketplaces and onto social media platforms. The shift has taken place as a result of e-commerce companies' co-operation with TRAFFIC to remove illicit wildlife trade information online, strengthened law enforcement efforts in physical markets and the dynamic development of online businesses.
Under a charter signed by the companies, they are committed to:
• strictly adhering to China's Wild Animal Protection Law and CITES with Zero Tolerance towards illegal wildlife trade
• detect and remove illegal wildlife trade advertisements on their platforms and send warnings to and prohibit their users form releasing such information
• actively assist law enforcement agencies in investigations and prosecutions
• enhance collaboration among companies, share information including techniques and experience in dealing with illegal wildlife trade online, and establish sound collaboration mechanisms
• apply advanced technologies, such as big data analysis and artificial intelligence (AI) to detect illegal wildlife trade
• advocate for green consumption measures on their respective platforms to contribute towards the government's drive for "ecological civilization"
• increase staff capacity to identify illegal wildlife products and raise awareness about wildlife cybercrime through staff training and communication
• support other industries, in particular the logistics industry, to combat illegal wildlife trade.
Earlier this year COSCO Shipping Lines issued a statement saying it will not knowingly facilitate or tolerate the carriage for illegal wildlife trade and will not accept cargo booking for any illegal wildlife related products.
The Chinese government has also announced it will close down its domestic ivory trade by the end of 2017, signaling an end to the world's primary legal ivory market. Hong Kong has committed to phasing out the city's commercial domestic ivory trade by 2021. In July, authorities in Hong Kong announced what they believed to be the world's largest ever seizure of about 7.2 tons of ivory tusks.
The global illegal wildlife trade is valued at between $5-20 billion per year. It is the fourth most lucrative global crime after drugs, humans and arms trafficking.
Current members of the internet alliance include Baidu, Alibaba, Tencent, 58 Group, Baixing net, Huaxia Collection, Zhuanzhuan, Shengshi Collection, Wen Wan Tian Xia, Zhongyikupai and QYER. The alliance is expected to be enlarged to include other global internet companies.
TRAFFIC's China Office will serve as the Secretariat of the new alliance, and the initiative is supported by WWF U.S., WWF U.K. and the U.K. Government through the Illegal Wildlife Trade Challenge Fund. It is also supported by Chinese government authorities including the State Forestry Administration, CITES Management Authority, Cyberspace Administration, National Forest Police Bureau, China Customs, Fishery Department of the Ministry of Agriculture and the State Administration for Industry & Commerce.