"China's Military for World Peace" Exhibition Launched in Africa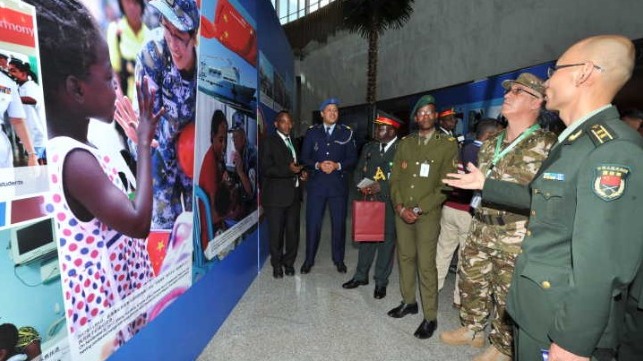 China has launched an exhibition at the African Union's headquarters in Ethiopia title "CPLA (Chinese People's Liberation Army): A Force for World Peace."
Over 200 people attended the opening ceremony including envoys and military representatives from African member states, officials from the U.N., NATO and other international organizations, as well as representatives from the United States, the United Kingdom, France, Japan, Norway, Sweden, Pakistan, Cuba, Argentina and Mexico.
"We have come across oceans to hold this exhibition here, with Chinese military's ideal of peace, the deep friendship of the Chinese people towards the African people, and the beautiful vision of the Chinese Dream connecting the African Dream," said Colonel Pan Qinghua, Member of the Chinese PLA International Communication Delegation.
Representative of the Chinese Mission to the African Union Chen Xufeng said in his speech that China has long paid close attention to the cause of peace and security in Africa and does not attach any political conditions to its aid to Africa, which is the "secret" of the long-term sound development of China-Africa relations.
The Chinese military has participated in 24 U.N. peacekeeping operations, 16 in Africa. More than 2,000 Chinese service members are now carrying out peacekeeping missions in Africa, and China has dispatched 31 batches of naval escort task forces to Somali waters since 2008. The Chinese military has also actively participated in international disaster relief and humanitarian assistance in Africa.
The exhibition features more than 60 representative photographs in four parts, including "participation in U.N. peacekeeping operations," "safeguarding the security of international transit passages," "providing international rescue and assistance" and "carrying out security exchanges and cooperation."
The exhibition comes after China has been accused of creating "debt traps" and building "regional hegemonism" via its Belt and Road Initiative. China counters that it has rather brought development and hope to participants. The initiative now has over 100 nations and international organizations actively involved. "China upholds peace and cooperation as well as the principle of extensive consultation, joint contribution and shared benefits when promoting development of the initiative," said Chinese spokesman Guo Weimin. "With the initiative progressing, China is winning more and more friends."