China Launches First 700 TEU Electric Containership for Yangtze Service
China completed the float out of its first 700 TEU pure power containership. The vessel, which is being built for COSCO Shipping Heavy Industry, is part of an effort to use electric-powered vessels throughout the Yangtze region. It is the first of two river containerships being built for the operation.
The ship was floated at the shipyard in Yangzhou on July 26 and is currently being referred to by its hull number of N997. Dry dock assembly began in March 2023 after the project kicked off in December 2022. The ship is scheduled to commence sea trials in late September. It will undergo a thorough verification of the power system.
The vessel is 393 feet in length with a beam of approximately 77.5 feet and 10,000 tons. They will have a design draft of 18 feet to provide good maneuverability along the Yangtze with a carrying capacity of up to 700 TEU. They are designed to sail a route stretching more than 600 miles along the river and to the sea.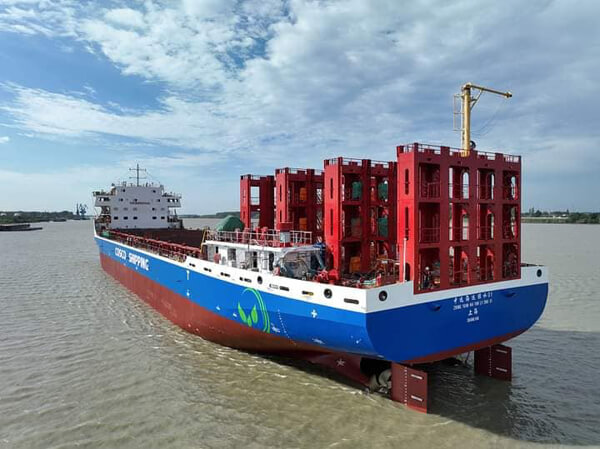 The reports are saying the vessels will have the largest installed battery capacity yet placed aboard a ship. They are utilizing a containerized battery approach with 36 replaceable containers as the power source. They will swap batteries along the route with the batteries recharged at stations along the route.
Each of the ships will be powered by two 900 kW main propulsion motors. When the project was unveiled last year, COSCO said the containerized batteries would be the size of a 20-foot container with a capacity of 50,000 kWh.
In addition, they will employ a smart ship management system to increase the efficiency of the operations. It will be able to intelligently adjust energy consumption based on the needs of the ship. It will plan the speed of the voyage according to the arrival time, water flow, battery capacity, and other factors.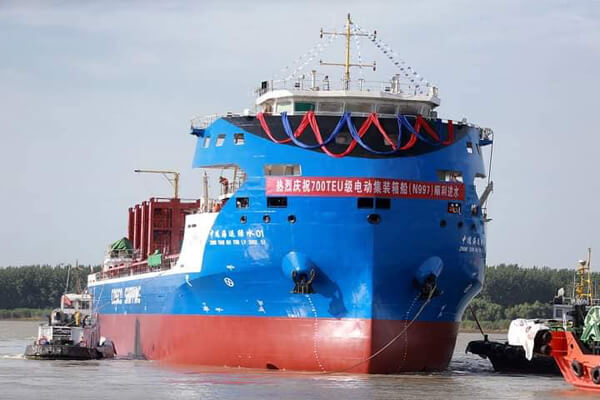 Construction on N998, the second vessel of the class, began in May. They will be operated by Shanghai Pan Asia Shipping, a subsidiary of COSCO, on the Yangtze from Shanghai to Wuhan.
During the float-out ceremonies, officials said they were the first batch of green zero-carbon ships and would serve as a pilot for future projects.