China Commissions New Destroyer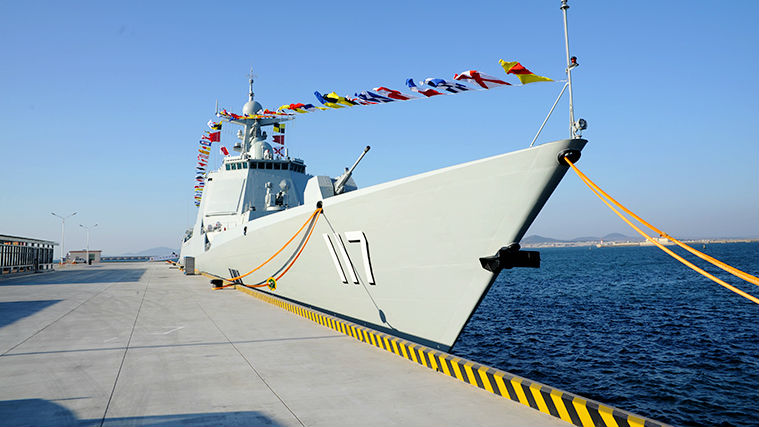 China has held a naming and commissioning ceremony for its new guided-missile destroyer Xining (Hull 117). The vessel is now homeported at Qingdao Naval Base in North East China's Shandong province.
Xining is a Chinese-built guided-missile destroyer considered to be generallyl equivalent to the U.S. Aegis destroyer.
"Xining is a homegrown guided-missile destroyer integrated with many new types of weaponry," said China's defense ministry in a statement. "The destroyer has high informationization level, advanced stealth capability, and electromagnetic compatibility. "The destroyer is mainly responsible for formation command, regional air defense, anti-submarine warfare and other missions."
The vessel's active phased array radar system is speculated to be capable of detecting U.S. stealth combat aircraft including the F-35 Lightning II.
It is the fourth vessel of its class. The first, Kunming, was commissioned in March 2014. Changsha was commissioned in August 2015. Hefei was and commissioned in December 2015, and Yinchuan was commissioned in July 2016. These ships sail in the nation's South Sea Fleet.
At least 14 of these Type 052D destroyers are expected to be built by Jiangnan-Changxing Shipyard and Dalian Shipbuilding Industry.
Earlier this month, China launched a new electronic reconnaissance ship and now operates six such vessels. Last year, the country commissioned 18 naval ships, including missile destroyers, corvettes and guided missile frigates. China has also believed to be building a second aircraft carrier.
The National Interest reports that China has plans to grow its navy to 351 ships by 2020, more than the U.S.
U.S. President Donald Trump has vowed to rebuild the U.S. military, which he said during his inauguration speech represented a "sad depletion." The U.S. Navy has shrunk from more than 500 ships in 1991 to 275 in 2016.
The Naval History and Heritage Command website shows U.S. naval fleet numbers from 1886 to the present.