China Celebrates Delivery of First Large, Domestically-Built Cruise Ship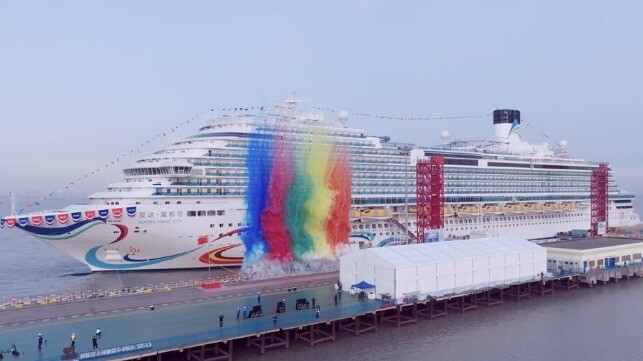 The Adora Magic City was officially named and delivered in Shanghai on Saturday, November 4, making the completion of China's first large, domestically-built cruise ship. Chinese officials continue to highlight the construction project which was completed in just five years from contract signing to delivery as a milestone for the industry and China's position as a global shipbuilder.
Chinese officials sought to use the delivery ceremony to highlight the growing sophistication of their shipbuilding capabilities. They noted that China became the first country to build a large cruise ship as well as an aircraft carrier and LNG carriers. They called the vessels the most challenging to build noting that China will continue to expand its role as a leader in global shipbuilding.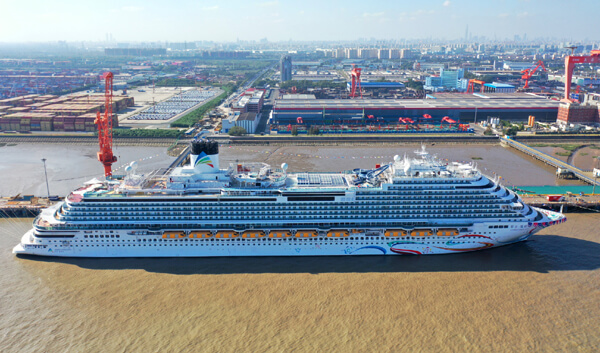 They highlighted the complexity of the process to build a 135,500 gross ton cruise ship that measures 1,061 feet and accommodates 5,246 passengers. The ship is built from a design developed by Carnival Corporation and Fincantieri, which acted as a consultant to China State Shipbuilding Corporation (CSSC) from the project which began with a contract signing in November 2018. They highlighted that the development of the vessel involved 361 suppliers and 1,105 enterprises, and is the result of the close collaboration of more than 5,000 engineers and technicians from more than 30 countries. They said the cruise ship consists of 107 systems, 55,000 sets of equipment, 25 million components and parts, 4,750 kilometers of cables, 365 kilometers of pipelines, and 120 kilometers of air pipes.
Delivery came two months after the ship which is known by the colloquial name of Ada Modu completed her second sea trials. After a six-day and five-night voyage of 1,630 nautical miles, the ship was met by party leaders to celebrate the last phase of construction. During the trials, the trial team reportedly strictly followed the trial plan and carried out various test verification work, including a total of 88 projects involving 31 commissioning procedures. They verified the ship's maneuverability, automation level, navigation safety and comfort, and related emission indicators.
While using Carnival's Vista class cruise ships as the basis for the design, CSSC and Adora Cruises are reporting that they combined Eastern and Western aesthetics, and tailored the vessel to the Chinese market. Like all modern cruise ships, she has a host of showrooms, lounges, a large shopping arcade, and 26 unique restaurants and bars. There is a large camp area for children including the first AI systems.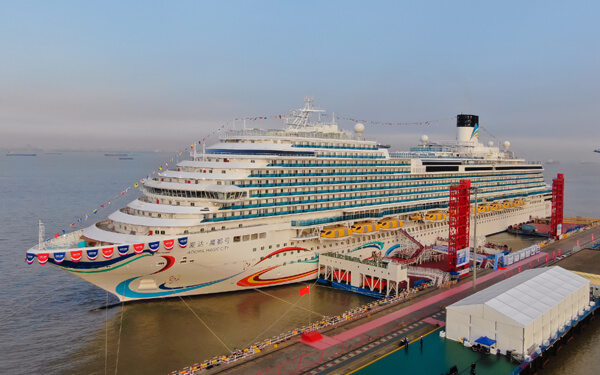 Adora recently began cruising from the northern Chinese port of Tianjin after a more than two-year delay due to the pandemic. The new Ada Modu will enter service on January 1, 2024, initially offering shorter cruises from Shanghai. They plan to transition the ship to longer cruises along the "modern Silk Road," once a larger sister ship which is under construction is delivered.
Carnival Corporation was a partner in the development of the Chinese cruise company. They remain a minority investor after having reduced their position as the project moved from concepts through a carefully metered construction process. The entry of the cruise ship into service is being seen as another demonstration that China is fully reopening its cruise market after an extended period after the pandemic and later than most other countries.