CEVA Logistics Announces Acquisition of CMA CGM Log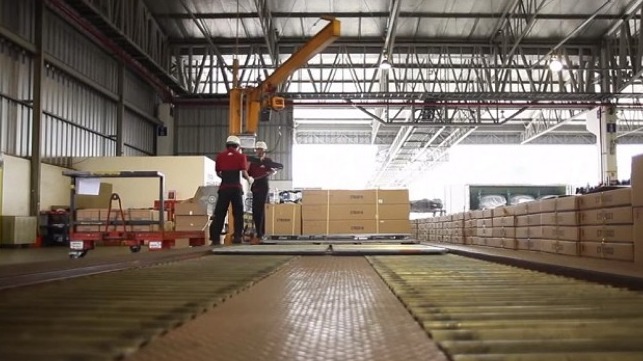 CEVA Logistics has announced a strategic plan which includes the launch of a strategic partnership with CMA CGM and the acquisition of CMA CGM's freight management activities (CMA CGM Log) for $105 million.
CEVA has set a 2021 revenue target of over $9 billion, reflecting a five percent average annual organic growth and a $630 million contribution from CMA CGM Log. CMA CGM Log has 1,200 employees in 32 countries via directly-owned entities and has cooperation agreements in 26 additional countries. CMA CGM Log has a significant presence in high growth markets including India, China, Australia and the U.S.
The integration of CMA CGM Log is expected to give CEVA 170,000 additional controlled TEUs, addressing CEVA's target to reach close to one million TEUs and enable expansion of its product offering in the field of Sea FCL (Full Container Load) and LCL (Less than Container Load), Customs Clearance, carrier haulage and Air freight Forwarding.
Closing of the CMA CGM Log acquisition is expected in the second quarter of 2019 following completion of a Public Tender Offer by CMA CGM for CEVA. The group made a pre-announcement of a public tender offer for CEVA Logistics this week. CMA CGM has been CEVA Logistics' reference shareholder since its listing on the SIX stock exchange in May 2018. At present, CMA CGM owns a non-controlling 33 stake in CEVA Logistics.
CEVA's strategic plan aims to create a stronger footprint in ocean freight management while remaining an independent and standalone listed company. Cross-selling with CMA CGM will see CEVA focus on the value-add segments like cold chain logistics and LCL, develop fast-growing sectors (E-commerce, Retail) organically and penetrate new geographic areas with strong growth potential (Asia, Middle East, Africa).
CEVA expects to leverage CMA CGM's overall platform to realize efficiency improvements. Back-office functions synergies have been already identified, including savings on current outsourcing contracts, transfer of functions to shared service center and more efficient billing and cash collection. On the procurement side, savings on services and consumables are also expected to contribute to savings.
Nicolas Sartini has been appointed Chief Operating Officer and Deputy CEO as of January 1, 2019. He has been acting as CEO of APL since CMA CGM's takeover of APL in June 2016. In this role, he has been instrumental to the quick turnaround of APL between 2016 and 2018. Prior to joining APL, he held various positions within CMA CGM as Group Senior Vice President. He graduated from the Paris-based Ecole des Hautes Etudes Commerciales business school in 1983.
"With the support of our strategic partner CMA CGM, I am proud to open a new chapter for CEVA Logistics and announce that we can accelerate our transformation and turnaround action plan in the next three years and beyond. This can be achieved by a combination of our commercial and sales focus, cross selling with CMA CGM customers, our own productivity actions, the integration of CMA CGM Log within CEVA and sharing resources with CMA CGM in the field of procurement and administrative functions. I am very happy to welcome Nicolas who has successfully turned around the APL shipping company as my Deputy and COO," said Xavier Urbain, CEO of CEVA Logistics.