Cargo Delivered to China's First Privately-Owned LNG Terminal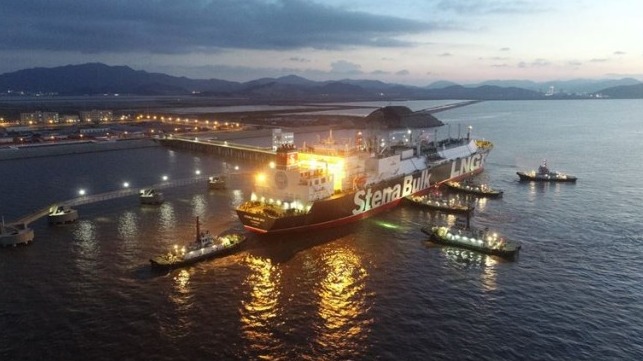 Stena Bulk's LNG carrier Stena Blue Sky has delivered its cargo to the first privately-owned LNG terminal in China. Chinese gas distributor, ENN invited the LNG carrier to become the first vessel to unload at the new Xin'ao Terminal in Zhoushan, Ninbo region on August 8.
The Zhoushan terminal has a capacity of three million tons of LNG per year.
China's LNG demand is expected to grow by more than 10 percent on average over the next three years, and earlier this year an ENN spokesman said he expects the country's LNG imports to easily hit 50 million tons by 2020.
Last year, China overtook South Korea to become the world's second-biggest importer of LNG behind Japan as a result of government policies to reduce coal consumption.
ENN has signed sale and purchase agreements with Chevron and Australia's Origin Energy. It also has an agreement with Total to buy 1.5 million tons a year of LNG, reports Reuters.
In recent years, as its domestic energy consumption has grown, China has become a more significant destination for U.S. energy exports including LNG. In 2017, china was the third-largest importer of U.S. LNG exports behind Mexico and South Korea.