Cargill and Lauritzen Order Another Pioneering Methanol-Fueled Bulker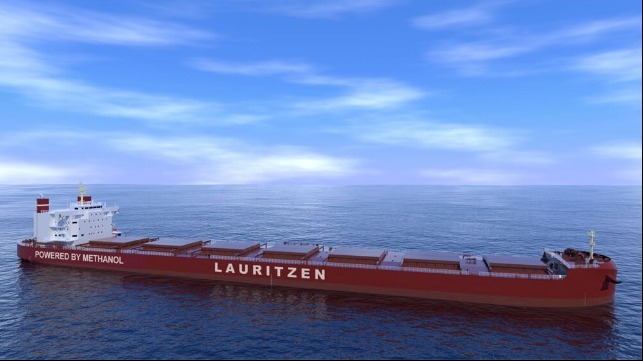 Cargill, the leading agribusiness, is accelerating its efforts to improve its shipping operations with an agreement to charter a third methanol-fueled Kamsarmax bulk carrier in a partnership with Danish shipping giant J. Lauritzen. The construction order adds to two vessels ordered two months ago and is in addition to Cargill's efforts at exploring wind-assisted propulsion for its fleet.
J. Lauritzen reports through its Lauritzen NexGen Shipping division it has placed a third construction order with Japan's Tsuneishi Group Shipbuilding. They did not announce a delivery date but said the vessel will operate for at least seven years for Cargill.
The vessel will be an 81,200 dwt Kamsarmax bulk carrier. The vessel will be powered by dual-fuel engines capable of using green methanol as well as biodiesel. According to Lauritzen, the vessels will be capable of trading with zero carbon emissions.
While the overall orderbook for methanol-fueled or ready ships is growing rapidly, the bulker segment has lagged with the orders. DNV calculates that there are currently 101 orders for methanol vessels. They report that 81 of the vessels on order will be containerships while only three of the current orders are for bulkers able to run on methanol.
In April, Lauritzen reported it had signed a letter of intent for the construction of a minimum of two methanol dual-fuel 81,200 dwt Kamsarmax bulk carriers to be built by Tsuneishi Shipbuilding. The builder reported that both ships are scheduled to be delivered in the latter half of 2026.
Tsuneishi highlights that the newly developed Kamsarmax design will maintain the high versatility of the class while leading in the new technologies. By loading an independent large-capacity methanol fuel tank, the builder said it has ensured that the methanol-fueled bulk carrier has ample cruising distance to satisfy customer needs. They reported that the hull design is improved versus the conventional Kamsarmax design, for which they have already built over 350 ships. The methanol fuel tank is placed on the stern to maintain the large cargo hold capacity typical of the class while also ensuring the safety and ease of cargo handling and safe and efficient maintenance by the crew.
The shipyard at the end of March 2023 reported it had reached a basic agreement on an order for the world's first methanol-fueled bulk carrier. That vessel will be owned by Mitsui & Co. and also operate for Cargill. They expect it to enter service in 2025.
In addition to the first methanol-fueled bulkers, Cargill has placed orders for bulkers outfitted for wind-assisted propulsion due to enter service this year. The company also increased its use of biofuels reporting to S&P that it had purchased more than 30,000 metric tons over the past two years while predicting it would reach 50,000 metric tons this year. Between 2017 and the end of 2022, Cargill reports it has cut nearly 1.5 million tonnes of gross carbon emissions from its fleet.