Captain of LPG Tanker Arrested After Bunker Spill in Bay of Gibraltar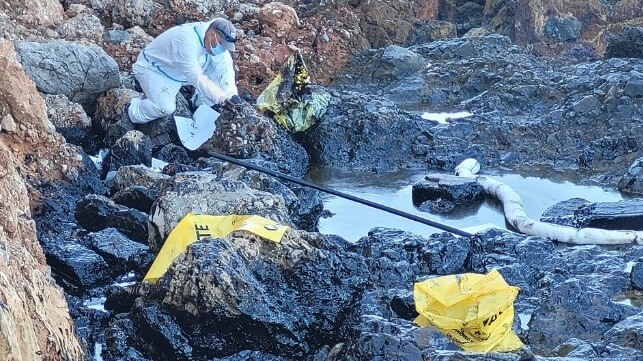 Authorities in Gibraltar have detained the vessel involved in a substantial bunker spill and arrested the captain, according to local police.
On Tuesday morning, a bunkering accident released fuel into the water at an anchorage in the Bay of Gibraltar, prompting a temporary closure of operations at the busy port. At 0822, the LPG tanker Gas Venus was taking on bunkers from a small bunker tanker when an overflow occurred. The Gibraltar Port Authority activated a response plan, and containment and cleanup operations began. The operation was reduced in scale at nightfall but resumed fully on Wednesday.
Oil washed ashore at two locations in Rosia Bay and Camp Bay, prompting beach closures and shoreside cleanup efforts. As is common after oil pollution incidents, volunteers went to the shoreline to provide free cleanup services and reduce harm to their own local environment. The local conservation NGO Nautilus Project is leading the effort, aided by young leaders and Miss Gibraltar 2022-3, Faith Torres.
The Gibraltar Port Authority does not plan to quantify the amount of the release right away, but more information will follow.
The Royal Gibraltar Police have arrested Gas Venus' captain and have put out a public appeal for the services of a Korean translator to help with the investigation, adding that the person will be paid for their time.
No injuries or wildlife effects have been reported. Port operations remain suspended, and the port authority has not issued a timeline for resumption of all services.
Gibraltar is the largest bunkering port in the Mediterranean, and sits by one of the busiest shipping lanes in the world. The port's last substantial spill occurred last year when the bulker OS 35 collided with another ship, went aground and broke up. The wreck removal was only completed last month.