Canada Responds to Small Fuel Spill from Boxship off Vancouver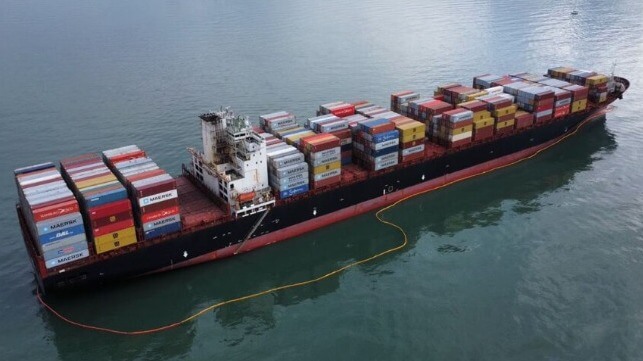 Canadian authorities responded to reports of an oil slick seen emanating from one of the containerships anchored in Vancouver harbor on January 21. While the spill was small, the Coast Guard and local teams moved as a precaution to contain any potential additional leaks from the vessel. It was the third vessel incident in recent weeks in the area with two other ships suffering mechanical failures requiring them to be towed to port for repairs.
The MV Europe, one of the more than 70 container vessels owned by Danaos Corporation of Greece, has been at anchor in Vancouver Harbor for a week when a pilot reported to the Canadian Coast Guard on Saturday morning a suspected marine pollution. The vessel is reported to be operating under charter to MSC and is on a trip that began in Asia departing Ningbo, China, and Busan, South Korea in late December 2022 and stopping in Prince Rupert, Canada before proceeding to Vancouver.
The Coast Guard reports it moved aggressively to contain the slick and strung a containment boom around the 101,000 dwt vessel which was built in 2004 and is registered in Cyprus. At the same time, the vessel's owner also activated a response and contacted the Western Canada Marine Response Corporation.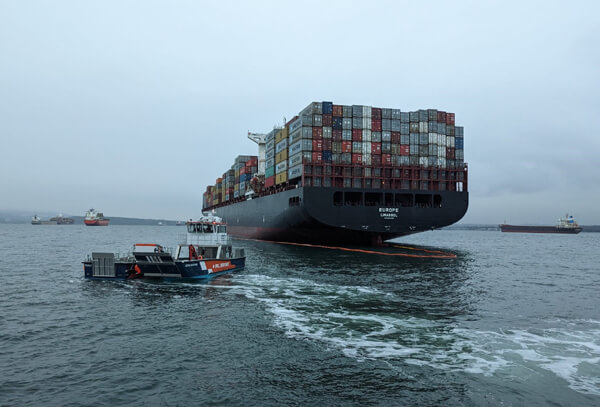 Canadian response to the sighting of an oil slick from the containership (Canadian Coast Guard)
Initial reports estimated that it was a small release of between 60 and 100 liters of fuel oil but the effort was prepared in case there was a larger release of fuel from the vessel. A helicopter, drones, and pollution response vessels from the Coast Guard and WCMRC surveyed the area to track the slick and monitor the vessel. The Coast Guard said they anticipated that the slick was thinning and spreading overnight while the survey had shown that it had not reached land. Shoreline Clean-up Assessments Teams were also being sent to walk the area to search for any signs of fuel that might have not been located by the aerial surveys.
The Coast Guard and WCMRC are continuing to investigate. Transport Canada will also be inspecting the containership to determine the source of the oil spill.
This incident comes after a containership, the GSL Eleni reported that its rudder had become stuck shortly after departing Vancouver on December 28. The 93,500 dwt, Liberian-registered vessel was towed back to port to undergo repairs. The vessel left the repair dock last week but then a 71,000 dwt bulker was towed in for repairs. The CSL Tecumseh, registered in the Bahamas, was loaded with 66,000 metric tons of gravel and sand when it lost propulsion on December 24 and was towed into the harbor. The cargo was transferred to another vessel before the dry bulk carrier was moved in for repairs.