Bulker Owner Signs for Two Cruise Ships from Chinese Yard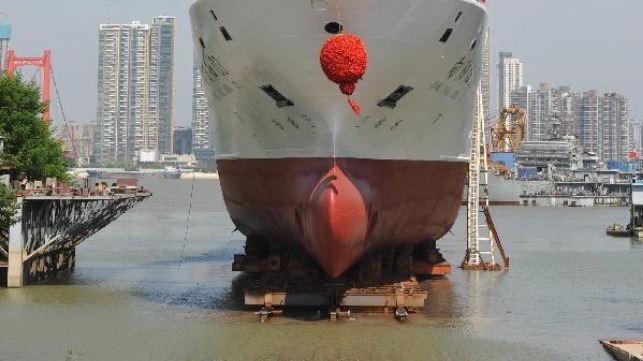 Wuchang Shipbuilding, a unit of state-owned conglomerate China Shipbuilding Industry Corporation (CSIC), is about to enter a new line of business: the construction of cruise ships. Bulker operator Fujian GuoHang Ocean Shipping recently placed an order with Wuchang for two 70,000 gt luxury vessels, which would be among the first of their kind built in China.
Wuchang is a conglomerate within a conglomerate, with 11,000 employees in its steel structures, bridges, defense and merchant vessel divisions. On the maritime side, it has built over 1,400 workboats, bulkers, offshore vessels, frigates, submarines and surveillance ships. Wuchang is also an international property developer: in conjunction with Sino Great Wall International Engineering Co., it is providing EPC services for the new Thai Boon Rong Twin Towers in Phnom Penh, joining in Cambodia's growing rush for luxury properties.
Like other CSIC units, Wuchang Shipbuilding has recently undergone a series of restructuring initiatives. In 2016, it merged with CSIC subsidiary Qingdao Beihai Shipbuilding, a large yard that is best known for building large bulkers and jumboizing container ships. Last year, CSIC recapitalized Wuchang and sister firm Dalian Shipbuilding Industry Co. by taking in $3.3 billion from eight Chinese investors in a series of debt-for-equity swaps and cash-for-equity transactions. According to one analyst interviewed by China Daily, the transaction could be a precursor to a merger with China State Shipbuilding Corporation (CSSC) - the only other Chinese shipbuilder with a large cruise ship on its books.
The buyer of the two new cruise ships at Wuchang, Fujian GuoHang, has historically focused on China's domestic coastwise dry bulk trade, and it controls over two million dwt of bulker capacity. It also has experience with passenger vessels: in 2010 it co-founded the Fujian Cross Strait Ferry Corporation, which runs high-speed ferries between mainland China and Taiwan.
Other recent attempts to build full-size cruise ships outside of the major centers of excellence in Europe have faltered, due in part to the complexity of the vessels and in part to the limited availability of specialized suppliers. In 2016, Mitsubishi Heavy Industries withdrew from the cruise ship market after losing billions on the construction of AIDA's new flagship, AIDAprima. MHI head Shunichi Miyanaga told the Financial Times that supplier difficulties put Asian yards at a disadvantage relative to their European peers. "We have been having difficulty finding an appropriate supply chain for Asia, especially in Japan, for some of the specifics, for some of the equipment and some of the systems for cruise ships," he said.
For its own cruise ship partnership with Carnival and Fincantieri, China State Shipbuilding Corporation is setting up a special-purpose district for cruise ship suppliers on the outskirts of Shanghai. The district's developers told media that they intend to invest nearly $750 million in the project, which could circumvent some of the difficulties encountered in previous attempts at non-European yards.