Brunswick, Georgia on Track to be Top U.S. Ro-Ro Port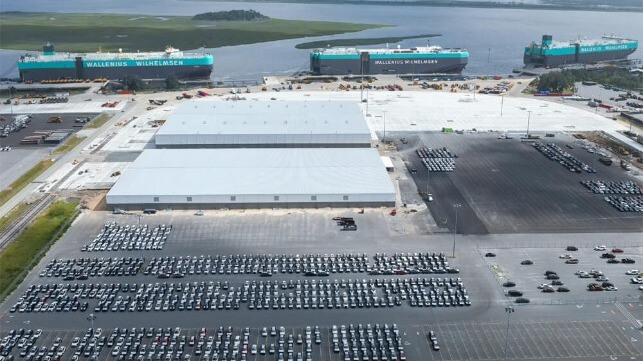 The Georgia Ports Authority highlights the strong growth in Ro-Ro traffic at the port of Brunswick, Gerogia as it works to realize the opportunities due to the strong growth in the automotive sector. Through their investments in infrastructure, they look to make Brunswick the top U.S. auto and Ro-Ro port.
Reviewing the state of the ports, GPA President and CEO Griff Lynch highlighted volumes that are already expanding at a strong rate in fiscal 2023 and which they expect to accelerate based on the strength of the automotive sector. In fiscal year 2023, the Colonel's Island Terminal in Brunswick grew Ro-Ro volumes by 18 percent, to more than 705,000 units of autos and heavy machinery, moving both into and out of the port. This included 610 vessel calls, an increase of 11 percent, with 495 of those specifically at the Colonel's Island terminal in Brunswick. They also handled approximately 18,500 units in Savannah during the year, volume that will be shifting to Brunswick as it becomes the sole Ro-Ro port and Savannah focuses on containers.
The GPA reported that three-quarters of the volume was imports which facilities, such as areas for pre-delivery inspections, set up specifically to support the import trade. The port also features a new fumigation facility onsite which is the largest facility of its size for autos and machinery. They note this is critical for exports as Australia and New Zealand are requiring fumigation for their imports.
As demand has grown in the automotive sector, and specifically with more manufacturing and OEMs moving production to Mexico, they highlight Georgia is supporting the industry with two services. CMA CGM started a new short-sea service carrying vehicles from Mexico to Brunswick in July and the Gold Star shipping line is starting a similar service this month.
This has helped volume in Brunswick, which was already growing at a strong pace, to see a sharp increase in September. The Colonel's Island Terminal handled 70,645 Ro-Ro units. Up 61 percent year-over-year.
"The automotive sector has been especially strong and consumer demand is driving this trend," notes Lynch. "To accommodate anticipated market demand, GPA has initiated an aggressive infrastructure plan, strengthening Colonel's Island for auto and machinery processing."
The terminal currently is composed of 1,700 acres with four on-site auto processors while they highlight there are 264 acres of additional space available. Construction was recently completed on 350,000 square feet of near-dock warehousing that serves auto and machinery processing on the north side of Colonel's Island Terminal. Three additional buildings representing 290,000 square feet and 122 acres of Roll-on/Roll-off cargo storage space are under construction on the south side of the island.
GPA has also won Federal approval for a fourth Ro-Ro berth at Colonel's Island, to enable more vessel calls. Currently, in the engineering phase, this project will more efficiently accommodate vessels that can carry up to 7,000 vehicles. Other planned improvements include widening the channel and expanding the turning basin at Colonel's Island to more efficiently handle large vessels as well as increasing rail capacity.
"Our investments in infrastructure capacity are well-timed to support the growing business in our Brunswick gateway," concludes Lynch. The GPA is confident that with these steps Brunswick is on track to be the top U.S. Ro-Ro port.