Brexit Passport Checks Lead to Lengthy Delays at Port of Dover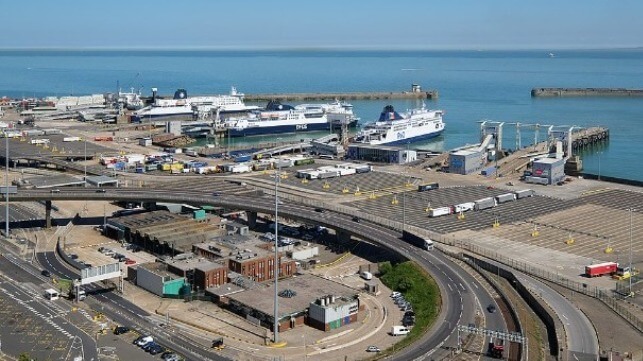 Three years after Britain left the European Union, the reimposition of customs checks at the Channel crossing is still upending port operations at peak travel times.
When Britain opted to leave the EU customs union, French officials began thoroughly checking the passports of British travelers, much as they would check the documents of any foreign nationals arriving from third countries. That manual process has had an impact on the throughput rate for cross-channel passenger transport, according to the Port of Dover, contributing to delays during surges in travel activity.
This occurred over the weekend as thousands of Britons headed to Europe by bus and ferry for their spring break vacations. The Port of Dover declared a state of emergency when a combination of bad weather, higher-than-expected traffic volume and customs delays on the French side led to some passenger buses experiencing a wait of up to 18 hours.
Port officials at Dover cited "lengthy French border processes and sheer volume" for the delays.
The Port, ferry operators & agency partners are striving to get coach passengers away. We apologise for the delays with border processing & will look to get you on your way as soon as possible

— Port of Dover (@Port_of_Dover) March 31, 2023
In an interview on Sky News on Sunday, Home Secretary Suella Braverman played down the disruption as a weather event. "I don't think it's fair to say that this is an adverse effect of Brexit . . . We've had many years now since leaving the EU, and there's been, on the whole, very good operations and processes at the border," she said. Braverman was a leading proponent of the Brexit "Leave" campaign in the run-up to the referendum in 2016, and continued to run on delivering "Brexit opportunities" in the Tories' leadership contest last year.
On Monday, a spokesman for the administration of UK Prime Minister Rishi Sunak allowed that passport controls played a role in the delay.
"We recognize there are new processes in place - that's why authorities were given a long time to prepare for the new checks," the spokesman said. "And we are in discussion with our French counterparts about how we can further improve the flow of traffic."
Another pro-Brexit leader, former Brexit transition negotiator Lord Frost, admitted in a statement Monday that "since Brexit the processes have got a bit more laborious."
"If we want to control movement into the UK . . . then we must expect the EU to control movement into the EU. We can't have it both ways and we should be honest about that," he said.
This coming November, France will also institute fingerprint and biometric scans for arriving UK nationals, the same protocol it plans to apply to other citizens of third countries. This is expected to add further to processing times for inbound travelers from Britain.