Boom Times Continue at Port of Prince Rupert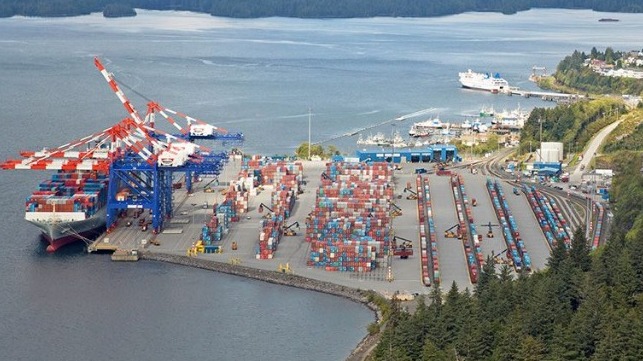 The port of Prince Rupert, Canada has posted a 19 percent gain in container volume in the first half of the year, making it the fastest-growing container port in North America.
Prince Rupert's consistent, remarkable gains have been driven by its rapid rail connection to the Midwest and its short route to East Asian ports, which can cut days off total transit times. Shanghai is 1,200 nm closer to Prince Rupert than to the Los Angeles / Long Beach port complex, which translates into about 60 hours' less transit time at 20 knots. Upon arrival, import boxes can be loaded onto a CN Rail train for transport to points east, and can be in Chicago within 90 hours (3.75 days).
To meet booming demand, Prince Rupert and operator DP World intend to add 22 acres to the port's Fairview container terminal by 2022, expanding throughput capacity by 33 percent. CN Rail is also investing heavily in the region, with plans to spend $260 million to increase capacity across British Columbia in 2018. The improvements will include four new passing sidings and three siding extensions between Prince Rupert and Alberta, along with extensive maintenance work.
Competitive pressure
The Northwest Seaport Alliance - the joint venture of the ports of Seattle and Tacoma - says that it is losing market share to Prince Rupert and Vancouver, B.C. because of the low cost of CN Rail's connections to the Midwest. The Canadian National rail link is reportedly hundreds of dollars per box less than comparable BNSF and Union Pacific rail routes departing Puget Sound terminals.
In recent comments to JOC, Prince Rupert denied that cost is a factor in shippers' decisions, and emphasized its speed and service. Seattle / Tacoma rail connections feature a fifth-morning service to the Midwest, indicating a longer rail transit time.