Australian Police Seize Record-Setting Meth Shipment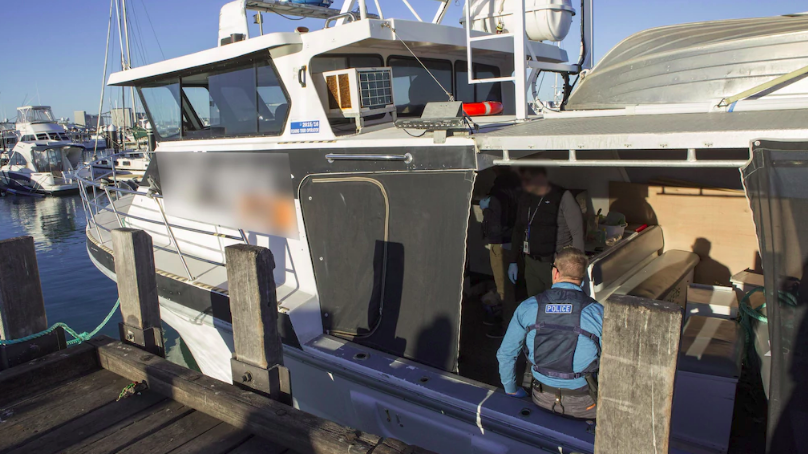 The Australian Federal Police (AFP) announced Friday that they have seized a record-setting shipment of 1.2 tonnes of methamphetamine from a private boat near Geraldton, about 200 miles north of Perth. It was the largest meth bust in Australian history, with a street value of $770 million, and it would have yielded 12 million individual doses – enough to supply the national market for two months.
Half a years' worth of careful preparation and police work came to fruition on Thursday, when SWAT teams raided a white delivery van carrying the massive shipment. Eight Australian nationals were apprehended and have been charged with multiple offenses, including illegal importation and possession of border-controlled drugs in a commercial quantity. Leanne Close, AFP Deputy Commissioner of Operations said that prosecutors will assert that the men were the organizers and facilitators of the shipment.
The cargo came from a 52-foot private boat, the Valkoista, which arrived in Geraldton at about 0200 on Thursday morning. Police officials suspect that the boat acted as a tender, picking up the drug shipment from a "mother ship" offshore and delivering it to the pier.
The van was loaded at 0400 hours, and the police intercepted and searched it shortly thereafter. It contained 59 sacks, each with 20 kilograms of meth.
Pleased to announce the largest seizure of methamphetamine in Aus history - 1.2 tonnes and 8 men charged in $1.04bn haul in Western Australia. Immensely proud of my team in WA and the WA Joint Organised Crime Task Force, incl. @AusBorderForce @WA_Police @AUSTRAC & @ACICgovau. pic.twitter.com/3hja6aZgAH

— Andrew Colvin (@AFPCommissioner) December 22, 2017
The three occupants of the van and three crewmembers from the boat were arrested on scene. Later in the day, two more men were arrested in a Perth suburb on related charges.
It was not the first such bust in Geraldton. Thirteen foreign nationals recently faced trial on charges of using a trawler to deliver 180 kilos of methamphetamine to a beach in the area. The vessel was intercepted and detained, along with a "shore party" of men who allegedly picked up the drugs on the beach. Last week, seven of the accused were found guilty and six were acquitted.
Methamphetamine is a serious problem in Australia, which has among the highest usage rates per capita in the world. In a 2013 national survey, seven percent of respondents said that they had used the substance, and about two percent said that they had used it within the last year. Demand is strong enough that the price for methamphetamine in Australia is "among the highest in the world," according to the UN Office on Drugs and Crime, and the potential for profit attracts crime syndicates and smugglers.