Australia Launches Third Air Warfare Destroyer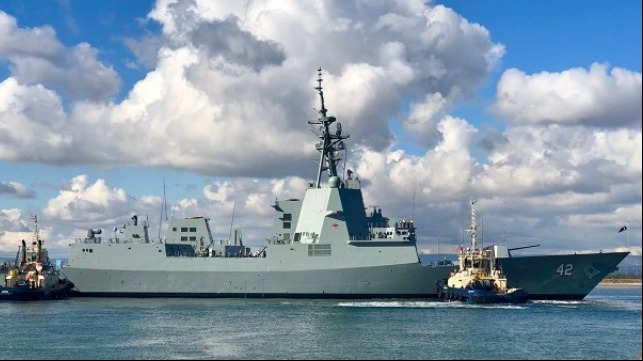 Australia launched its third and final Air Warfare Destroyer (AWD), HMAS Sydney, on Saturday.
HMAS Sydney has now joined the second Hobart Class AWD, HMAS Brisbane, alongside the wharf at the Osborne Naval Shipyard in South Australia.
AWD Program Manager Commodore Craig Bourke said: "The complexity of this project is reflected in the sophistication of the AWDs. These warships will provide a true step-change in capability for the Australian Defence Force. As the most potent warships Australia has ever possessed, all three destroyers feature an advanced anti-submarine warfare capability, state-of-the-art radar technology and an air defense system capable of engaging enemy aircraft and missiles at an extended range."
The AWDs will provide air defense for accompanying ships as well as land forces and infrastructure on nearby coastal areas. They will also provide self-protection against attacking missiles and aircraft. The Aegis Weapon System incorporating the phased array radar, AN/ SPY 1D(V), in combination with the SM-2 missile, will be capable of engaging enemy aircraft and missiles at ranges in excess of 150 kilometers.
The AWDs will also carry a MH-60R Seahawk 'Romeo' naval combat helicopter for surveillance and response to support key warfare areas. The surface warfare function will include long range anti-ship missiles and a naval gun capable of firing extended range munitions in support of land forces. The AWDs will also be able to conduct undersea warfare and will be equipped with modern sonar systems, decoys and surface-launched torpedoes.
In April 2005, the Australian Government selected Raytheon Australia as the Combat System - Systems Engineer, and in May 2005 selected ASC AWD Shipbuilder as the shipbuilder. In June 2007, the Australian Government announced that the Navantia designed F100 had been selected as the basis for the AWDs.
The three AWDs HMAS Hobart, HMAS Brisbane and HMAS Sydney are expected to be in service for over 30 years.