Ardent Perseveres on Kea Trader Salvage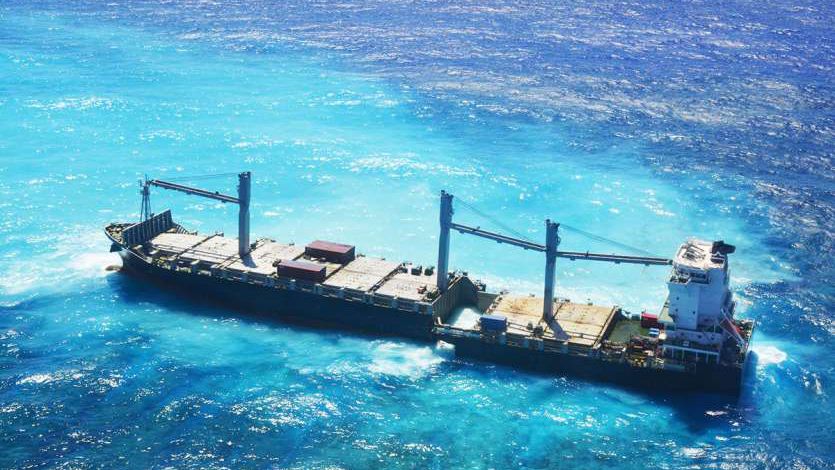 Ardent Salvage says that it is continuing the months-long effort to protect the environment and mitigate harm from the grounding of the container feeder Kea Trader, which has been stranded on Durand Reef in New Caledonia since July 12. The vessel broke in two due to wave action on November 12, and Ardent has worked continuously over the intervening weeks to minimize environmental damage.
"Ardent's two paramount focuses have always been the protection of the environment and the safeguarding of our client's interests. Despite the vessel breaking apart from the continuous impact of the elements, we detected no environmental damage. Most of the containers have been safely discharged and we remain confident that we can continue to minimize secondary effects of the wreck," said Jan Polderman, Ardent Salvage Master.
Polderman said that the salvage team worked up until the last minute to secure cargo on the Trader before she broke up. A contracted Bell helicopter hoisted them to safety when it became clear that they could no longer remain on the wreck.
"We had just achieved our ISO 14001 accreditation last quarter for Environmental Management. We would have never thought that we would be put to the test so soon. However we are pleased to see that our processes and procedures work as designed, for the greater good," said Peter Pietka, Ardent CEO.
Since the wreck broke up, the salvors have returned to remove oil and oil-soaked debris in order to prevent the release of hydrocarbons. On December 8, the government of New Caledonia said in a statement that daily overflights have found no visible signs of pollution near the vessel.