Arctic Report Card: Fewer Records Shattered in 2017
A NOAA-sponsored report shows that the warming trend transforming the Arctic persisted in 2017, resulting in the second warmest air temperatures, above average ocean temperatures, loss of sea ice and a range of human, ocean and ecosystem effects.
Now in its 12th year, the Arctic Report Card is a peer-reviewed report that brings together the work of 85 scientists from 12 nations.
While 2017 saw fewer records shattered than in 2016, the Arctic shows no sign of returning to the reliably frozen region it was decades ago. Arctic temperatures continue to increase at double the rate of the global temperature increase.
Using historical data, that the current observed rate of sea ice decline and warming temperatures are higher than at any other time in the last 1,500 years, and likely longer than that.
The age of sea ice is another key descriptor of the state of the sea ice cover. Compared to younger ice, older ice tends to be thicker, stronger and more resilient to changes in atmospheric and oceanic forcing. Very old ice (over four years old) continued to make up a small fraction of the Arctic ice pack in March, when the sea ice extent was at its maximum. In 1985, 16 percent of the ice pack was very old ice, but by March 2017, this ice category only constituted 0.9 percent.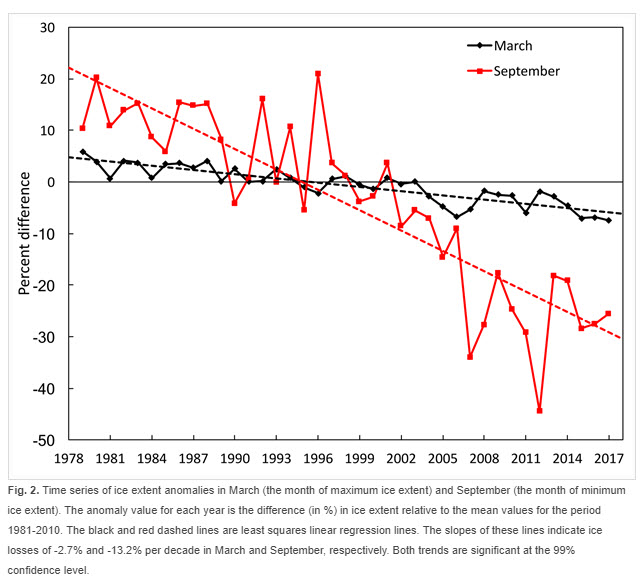 The report states that: "Arctic conditions in 2017 provide an excellent example of the need to assess observations in the context of longer-term records. After a very warm Arctic-wide autumn 2016, spring and summer 2017 had near average air temperatures relative to 1981-2010 climatology. These spring/summer conditions were reminiscent of conditions before the long-term temperatures increases that began in the 1990s. These 'relatively cool' temperatures in spring and summer 2017 contributed to a rebound in the snow cover extent in Eurasia during May and June, a slowing of the summer sea ice loss, and below-average melt extent for the Greenland ice sheet.
"Taken alone, observations made in spring and summer 2017 might encourage a relaxation in the concerns over environmental conditions in the Arctic. However, when taken in context, there are many strong signals that continue to indicate that the Arctic environmental system has reached a 'new normal'."
Major findings in this year's report include:
Warmer air temperature. Average annual air temperature over land was the second highest after 2016 in the observational record, with a temperature 2.9 degrees Fahrenheit (1.6 Celsius) above the average for 1981 to 2010.
Declining sea ice. This year's maximum winter sea ice area, measured each March, was the lowest ever observed, while this year's minimum area, measured each September, was eighth-lowest on record. Sea ice is also getting thinner each year, with year-old ice comprising 79 percent of coverage, and multi-year ice just 21 percent. In 1985, multi-year ice accounted for 45 percent of sea ice.
Above average ocean temperature. Sea surface temperatures in August 2017 were 7.2 degrees Fahrenheit (4 Celsius) above the average in the Barents and Chukchi seas. Surface waters of the Chukchi Sea have warmed 1.26 degrees Fahrenheit (0.7 Celsius) per decade since 1982.
Arctic ocean plankton blooms increasing. Springtime melting and retreating sea ice which allows sunlight to reach the upper layers of the ocean, continues to stimulate increased chlorophyll as measured by satellite, which indicates more marine plant growth across the Arctic. This increase has occurred since measurements began in 2003.
Greener tundra. Overall vegetation, including plants getting bigger and leafier, and shrubs and trees taking over grassland or tundra, increased across the Arctic in 2015 and 2016, as measured by satellite. The greatest increases over the last three decades are occurring on the North Slope of Alaska, Canada's tundra and Taimyr Peninsula of Siberia.
Snow cover up in Asia, down in North America. For the 11th year in the past 12, snow cover in the North American Arctic was below average, with communities experiencing earlier snow melt. The Eurasian part of the Arctic saw above average snow cover extent in 2017, the first time that's happened since 2005.
Less melt on Greenland Ice Sheet. Melting began early on the Greenland Ice Sheet in 2017, but slowed during a cooler summer, resulting in below-average melting when compared to the previous nine years. Overall, the Greenland Ice Sheet, a major contributor to sea level rise, continued to lose mass this past year, as it has since 2002 when measurements began.