Anti-Seismic Blasting Lawsuit Filed in South Carolina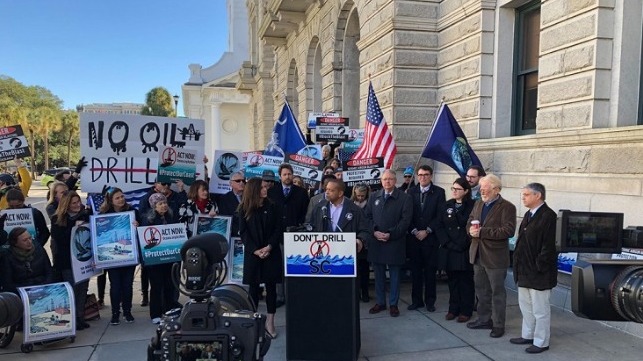 Southern Environmental Law Center (SELC) attorneys have joined a coalition of conservation groups in filing a lawsuit to stop the Trump administration from allowing companies to conduct seismic airgun blasting in the Atlantic Ocean.
The lawsuit maintains that the Trump administration's approval of "Incidental Harassment Authorizations," which allow surveying companies to harm dolphins, whales and other sea animals, violate the law. The suit claims these permits violate the Marine Mammal Protection Act, the Endangered Species Act and the National Environmental Protection Act.
Seismic blasts can be harmful to whales and dolphins that use sound to communicate and navigate. And since more than 200 East Coast towns, cities and counties have passed resolutions opposing offshore drilling, seismic blasting will mean ocean animals suffer harm for an outcome virtually no coastal communities support, says SELC. Scientists believe the seismic blasting will be particularly hard on the critically endangered right whale.
The Trump administration has proposed to expand offshore development in a five-year plan that would open 90 percent of the nation's offshore reserves. Conditions imposed mean that survey vessels will be required to carry wildlife observers, and operations would be shut down if certain species are observed. Other conditions involve vessel strike avoidance measures, special closure areas to protect the main migratory route for the highly endangered North Atlantic right whale and consideration of geographic separation of simultaneous seismic airgun surveys.
However, the environmental groups are not satisfied with this. "Ignoring the mounting opposition to offshore drilling, the decision to push forward with unnecessarily harmful seismic testing defies the law, let alone common sense," said Catherine Wannamaker, a senior SELC attorney. "An overwhelming number of communities, businesses, and elected officials have made it clear that seismic blasting–a precursor to drilling that no one wants–has no place off our coasts."
Attorneys general in several states have indicated they could intervene in this lawsuit to protect their states' waters from seismic blasting. A coalition of South Carolina mayors and businesses has since filed a separate lawsuit.
"South Carolina has spoken: We don't want offshore oil and gas drilling," said Laura Cantral, executive director at South Carolina Coastal Conservation League, one of the organizations SELC is representing. "Seismic blasting is a big step in that direction, threatening our fragile coast and economy. We will firmly defend our communities and vulnerable marine life."
The Bureau of Ocean Energy Management has issued five oil and gas permits for seismic surveys off the Atlantic Coast, and on November 30, NOAA Fisheries released an opinion regarding the permits and the Marine Mammal Protection Act concluding that the action is not likely to jeopardize the continued existence or recovery of blue whales, fin whales, North Atlantic right whales, sei whales, sperm whales, green sea turtles, Kemp's ridley sea turtles, leatherback sea turtles or loggerhead sea turtles.
In addition to SELC, the coalition that filed the lawsuit includes Oceana, the Natural Resources Defense Council, Earthjustice, the Center for Biological Diversity, the South Carolina Coastal Conservation League, the South Carolina Environmental Law Project, the North Carolina Coastal Federation, One Hundred Miles, Sierra Club and the Surfrider Foundation.