Ammonia-Fueled Newcastlemax Bulker with Sails Granted Design Approval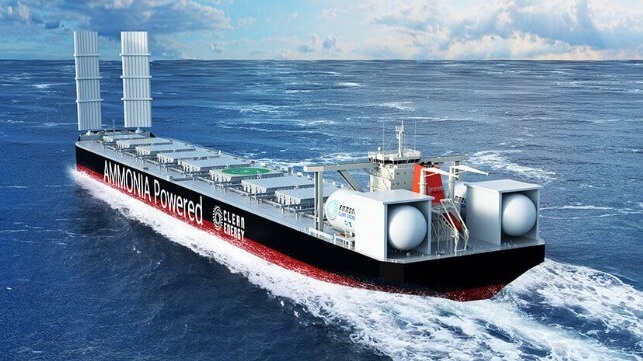 Japanese shipping company Mitsui O.S.K. Lines is pushing ahead with ambitions to deploy ultra-large bulk carriers operating on new generations of clean fuels. The company, which has been on an aggressive investment spree for LNG-fueled vessels, is looking to the next generation of vessels reporting it has received design approval from Nippon Kaiji Kyokai (ClassNK) for an ammonia-fueled bulker that supplements its propulsion with wind power.
The design is being jointly developed by Mitsui O.S.K. Lines (MOL) in partnership with Mitsui & Co. and Mitsubishi Shipbuilding. MOL and Mitsui jointly determined the size and specifications of the vessel, selecting a 210,000 dwt Newcastlemax bulker as a "highly versatile class of ship." Mitsubishi Shipbuilding is undertaking the design of the vessel.
ClassNK reviewed the jointly developed design in line with its guidelines and issued the AiP upon verifying conformity to the prescribed requirements. The classification body is also scheduled to conduct a risk assessment to confirm that no unacceptable risks exist at the basic design stage and to identify items to be considered in the detailed design. Among the challenges they are addressing are the safety measures taking into account the toxicity of ammonia.
Design approval for the ammonia-powered Newcastlemax bulker comes as the clean fuel is projected to become the leading fuel source for the world's giant cargo ships by 2050 helping the shipping lines to transition from LNG for their decarbonization strategies.
According to MOL, apart from being powered by ammonia, the vessel will also feature two ammonia fuel tanks on deck to maximize the cruising range for various routes and to make the most effective use of cargo space. The rendering also shows the placement of two rigid wind sails at the front of the vessel.
MOL, which operates a fleet of 319 bulk carriers, is implementing an ambitious 2050 net zero plan with a target of deploying approximately 110 ocean-going vessels sailing on synthetic methane, ammonia, hydrogen, and biodiesel as the primary fuel. The company is already in the process of developing a liquefied ammonia gas carrier that is scheduled to be launched in 2026 and has completed the concept study of an ammonia floating storage and regasification unit with further study for implementation set to be conducted.