Allianz: Total Losses Reached Record Low but Dangers are Increasing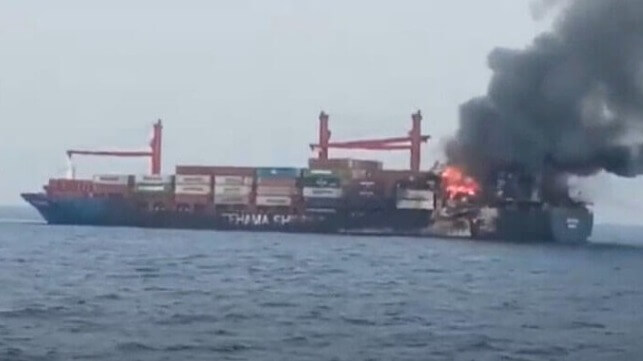 While shipping's total losses hit a record low in 2022, insurance giant Allianz reports that the overall number of shipping casualties and incidents remained constant while the cost of claims has risen dramatically. Further, they point to emerging challenges from the growing shadow fleet as well as the increasing dangers from fire and mis-declared cargo compounded by the increasing size of vessels and congestion in and around ports. The sector has plenty of obstacles to navigate over the next 12 months and beyond according to Allianz Global Corporate & Specialty's Safety & Shipping Review 2023.
"Shipping losses have sunk to the lowest number we have seen in the 12-year history of our annual study reflecting the positive impact safety programs, training, changes in ship design and regulation have had over time," says Captain Rahul Khanna, Global Head of Marine Risk Consulting at AGCS. "While these results are gratifying, several clouds appear on the horizon."
Allianz says the improvements have been significant over the past decade, culminating in a record-low number of large ships lost over the past year. The report calculates that there were only 38 total losses of vessels reported in 2022 down from 59 in 2021. It represents a 65 percent decline from the 190 vessels lost a decade earlier in 2013 with Allianz highlighting that 30 years ago the industry regularly lost over 200 vessels a year.
Yet while total losses are down, the number of incidents reported remained consistent at approximately 3,000 per year. Machinery damage or failure accounted for approximately half of all the claims.
Among the challenges cited in the report as near-term concerns for the shipping industry including new threats posed by the ripple effects of the Ukraine conflict, including the ongoing risk to commercial shipping in the Black Sea region from mines and other potential damage. They also point to the growth of the shadow tanker fleet citing estimates that it has reached as many as 600 vessels as more ships seek to avoid the oil import sanctions. Justus Heinrich, Global Product Leader Marine Hull at AGCS points out that most of the ships are older and operate under flags with lower maintenance standards. Often sailing without any insurance, the dangers are high for collision or major environmental damage.
Most of the concerns however are consistent issues such as fire and mis-declared cargo as well as the new pressures for decarbonization efforts. Allianz reports there were over 200 fires reported in 2022, the highest number for a decade. Fire incidents were up 17 percent in 2022 and they are the third most common cause of incidents globally. Over the past five years, they report 64 ships were total losses due to the fire. Further, they cite data predicting the battery market will grow by over 30 percent annually over the next decade.
Allianz highlights the potential for a unique approach saying that purpose-built vessels for transporting electric vehicles would be "advantageous." According to Captain Khanaa, most ships lack the suitable protection, detection, and firefighting capabilities," to tackle fires from EVs and battery-powered goods. Allianz highlights the danger of thermal runaway from Li-ion batteries while saying more has to be done with pre-emptive measures, emergency plans, and crew training.
The growth in the transport of hazardous cargo along with the persistent problems of poor packing and mis-declaration also contribute to the losses and future challenges. Currently, they report a quarter of the serious incidents on containerships trace to mis-declared dangerous goods such as chemicals, batteries, and charcoal. These issues are compounded by the growth in the size of ships with Allianz reporting container carry capacity has doubled in the last 10 years.
The combination of these issues along with inflationary pressures on global economies is also creating challenges for the insurers while several of the major clubs reporting larger losses tied to casualties from these issues. Allianz points out that costs are now around two times higher than before the pandemic for a typical propeller or machinery claim. The price of goods, materials, and labor have all risen while shortages and delays have also resulted in longer repair periods and lost operating time. Larger ships also are resulting in higher repair, salvage, and towing costs.
Allianz cautions that economic pressures could put vital investments in companies' strategies for decarbonization and fleet modernization, as well as in other safety initiatives, in jeopardy.