After Bomb Hoax, Officials Find 2.4 Tonnes of Cocaine on Board Boxship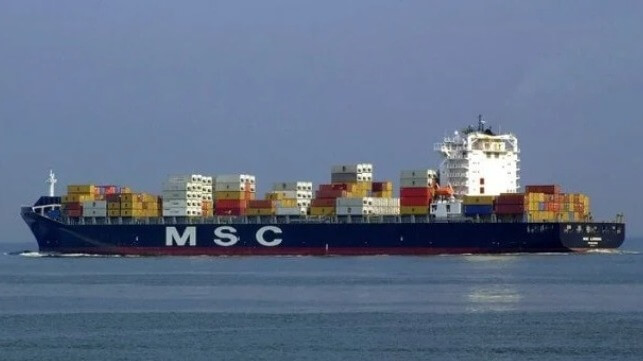 The report of a bomb aboard the container ship MSC Lorena last month turned out to be false, but authorities turned up something else in her cargo: 2.4 tonnes of cocaine.
The Panamax boxship MSC Lorena was headed for the Port of Antwerp on the night of December 22 when the Belgian police received a telephoned bomb threat targeting the ship. The caller (falsely) told the police that the vessel would explode shortly after docking at the port.
The Lorena had completed most of the transit along the River Scheldt and had reached a point just west of Antwerp when the threat was received. The police ordered the vessel to reverse course and proceed to the Vlissingen anchorage to investigate. She was held there for a week with the crew aboard until the authorities determined that the threat was a hoax. Two male suspects in their early 20s have been arrested in connection with the hoax threat.
"The ship had to be anchored for a week, so the cargo could not be unloaded. In addition, one must realize that, for example, just lending a telephone to express a threat can have enormous consequences," Dutch police official Gert Wibbelink told local media.
However, there was something else aboard the Lorena. After the ship was released, she transited into Antwerp for cargo operations. While she was in port, officials found 2,444 kilos of cocaine in a container, hidden in a cargo of cocoa. The ship departed again on January 4, bound for Togo.
Antwerp and MSC have both developed an unwanted association with the cocaine trade, thanks in large part to their strong ties to Latin American seaports and shipping lanes.
MSC has spent millions of dollars to rid its cargo network of cocaine smuggling operations, which temporarily cost the company its U.S. preferential customs status and the use of one of its vessels after a major drug bust in 2019.
Antwerp is the busiest cocaine import hub in Europe by a wide margin. Taken together, drug seizures at Antwerp and nearby Rotterdam accounted for about 160 tonnes of cocaine in 2022, equivalent to about five percent of all global production. An unknown additional volume makes it through security and into the European market.