Adm. Bill Moran to Retire Instead of Taking U.S. Navy's Top Post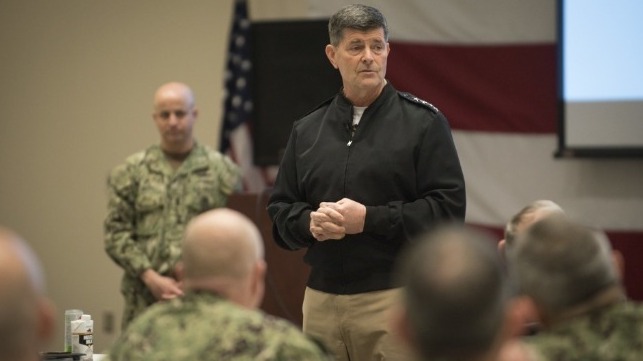 Adm. William "Bill" Moran, the nominee for the post of the U.S. Navy's highest-ranking officer, announced Sunday that he will retire rather than accept the nomination. The admiral cited an ongoing investigation into unspecified "personal email correspondence over the past couple of years" along with questions about his ongoing contacts with a dismissed public affairs officer, Cmdr. Chris Servello.
"It is my sad duty to confirm to you that Adm. Moran has submitted his request to retire. The Secretary of the Navy has accepted his request. He will not serve as the next [Chief of Naval Operations]," wrote Secretary of the Navy Richard Spencer in a message to top Navy leadership. "This is an extremely difficult situation, but importantly, this matter strongly reinforces the importance of trust, and the high standards of behavior needed to secure that trust."
Cmdr. Servello was once Adm. Moran's public affairs officer, and he served in a similar role for current CNO Adm. John Richardson. Servello was stripped of his duties after accusations of sexual harassment and sexual assault surfaced in 2017, and he has since departed the Navy to start his own public affairs company. The accusations resulted in no criminal charges, but Servello received administrative counseling.
In his message to staff, Secretary Spencer said that Adm. Moran had "maintained an off-the-record collaboration on high-level official Navy business with an officer who had previously been held accountable for inappropriate behavior towards junior female officers . . . This decision on his part to maintain that relationship has caused me to call his judgment into question." Senior officials have confirmed to media that Cmdr. Servello was the officer to whom Spencer referred.
"Serving in the United States Navy has been a high honor and privilege," Adm. Moran wrote. "I believe in the institution. And I believe I am doing right by it."
Adm. Richardson will continue in his role as CNO until another nominee can be found to replace him. Adm. Robert Burke, formerly the chief of naval personnel, has already assumed Adm. Moran's previous responsibilities as vice chief of naval operations (VCNO).
Adm. Moran was a naval aviator by training. From 2013-2016, he was the chief of naval personnel, responsible for planning and programming of all manpower, personnel, training and education resources for the U.S. Navy. The surface fleet's training and manpower policies came under intense scrutiny in 2017 in the wake of the USS Fitzgerald and USS McCain casualties and revelations of pervasive deficiencies at Japan-based 7th Fleet. In his new role as Vice Chief of Naval Operations, Adm. Moran took the lead in addressing these issues as head of the Navy's Readiness Reform Oversight Committee.
"I personally made the assumption, and I have made the assumption for many, many years that our forward-deployed Naval force in Japan was the most proficient, well-trained, most experienced force we had, because they're operating all the time," Moran told the House Armed Services Committee in 2017. "I've made the assumption. It was a wrong assumption, in hindsight."