AAL and HMM to Cooperate Globally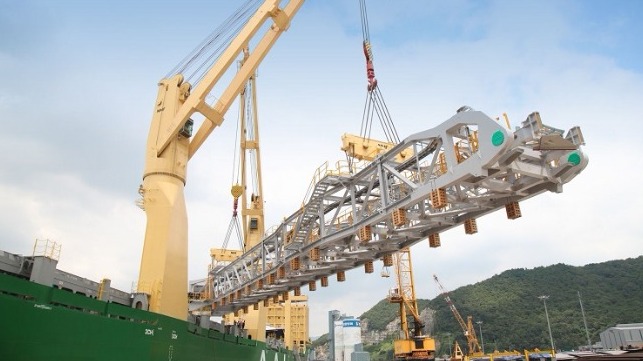 Multipurpose carriers AAL and Hyundai Merchant Marine (HMM), are entering a global cooperation that will see both carriers expand their trade route coverage, sailings frequency, and multi-purpose vessel (MPV) fleet capacity.
The cooperation will create a joint Far East – Middle East MPV liner service, served by five MPV vessels and a scheduled bi-monthly rotation. It will also see the expansion of HMM's services portfolio with global tramp solutions, and semi-liner services provided by AAL.
Both carriers will remain independent and promote these expanded services under their own respective brands. There will be no collaboration on pricing.

The new Far East – Middle East MPV Liner Service will provide regular and scheduled sailings for breakbulk, project heavy-lift and general cargo shippers with five MPV vessels (four 30,100dwt 640-Class from HMM and one 31,000dwt A-Class from AAL) on a 15 and 30-day sailing rotation. The service will connect the Asian markets of China, Korea, Japan, Indonesia and Singapore with the Middle East via the Persian Gulf and Red Sea routes. Capacity and port coverage will be jointly coordinated, but each carrier will issue separate schedules to their customers, who'll be able book space on any vessel serving the trade.

Namir Khanbabi, Chartering & Operations Director of AAL, said: "The intention is to expand the service to six vessels, with an additional A-Class vessel by 2019. As more global projects become active in 2018 and multipurpose cargo volumes rise – as has been widely forecast – we aim to be in pole position to competitively service this demand, whatever the cargo and wherever the destination."

HMM is also expanding its portfolio with a range of global bespoke tramp solutions and semi-liner services – connecting the Americas, Europe, Middle East and Asia – operated by AAL. Seung-il Park, General Manager of HMM, explains: "We've established a leading position with Korea's dynamic energy and infrastructure industries, operating regular multipurpose sailings between Asia and the West. These same customers can now take advantage of the exciting new services that our cooperation with AAL will bring, without seeing any change to either the team or the process by which they make their current bookings.

"There are no immediate plans for a more expanded cooperation but, should there be meaningful opportunities to generate further value for our respective customers through an expanded collaboration, this will be thoroughly reviewed as and when."