Middle East Looks to Floating Ports and Villas
Considering the limited land space and massive water body surrounding Qatar, the country stands to benefit greatly from using its waterfronts for the construction of floating structures, says Andris Kursitis, the managing director of Baltic Floating Structures.
The company has already built floating refueling stations servicing the private, ferry and megayacht around Europe and Russia. "Approximately 70 percent of the earth surface is covered with water, and from day to day the land space is getting smaller, so why don't we use this 70 percent instead of spending huge sums of money to rent or buy plots of land?"
Kursitis has more than refueling stations in mind and has designed floating ports, villas, restaurants, hotels and swimming pools. "With the innovation in technology, basically almost everything that is constructed on land today can be implemented on water.
"Our floating structures are usually installed in the wave protected areas according to the required classification for installation in the location and based on the wave height. However, if necessary, they can be installed in open waters. In this case our team will conduct the forecast of dangerous hydrodynamic phenomena, surveys of interaction of winds and waves with the floating structure, calculations of flow fields in the location etc," he said.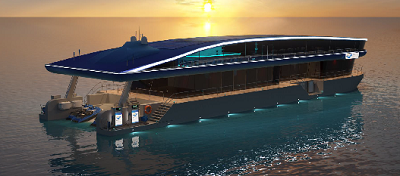 "After all the calculations the water area is either to be protected by the floating breakwaters of our own production or the object will be able to operate in the aquatory with no additional protection," Kursitis added
The company is actively expanding in the Middle East and is presently negotiating the turnkey installation of several big projects in Qatar and the UAE.
While the construction process is a little more expensive than on land, says Kursitis, when the cost of land purchases is factored in, the floating structures ultimately end up being cheaper. "Moreover in case of infrastructure change, natural disasters or low season (relevant to commercial structures and fuel stations) the floating structure can be tugged away to a different location, thus improving its economic performance, without losing the initial investment," he added.
"Some of our structures, for example the floating fuel station, are 100 percent unsinkable and will stay afloat even if fully filled with water," says Kursitis. Their concrete basements do not interfere with the natural water flow under them, thus reducing any negative environmental impact. In contrast, the construction of artificial islands can lead to ecological disaster and stagnant waters that do not circulate. "Our floating structures are being built in a shipbuilding dock and transferred to the installation location with a tug boat. They therefore do not affect the environment at all."
The company has been in operation for over 11 years. The docks are either steel or concrete-based floating structures which are usually moored by piles or anchors in wave-protected water areas, and connected to shore with an access bridge and in some cases additional pontoons. All products are constructed under technical supervision and according to rules and requirements of Lloyd's Register or other members of IACS.
Floating fuel docks are currently being designed with waste water pump out, and LNG bunkering is in the pipeline. Baltic Floating Structures offers a variety of floating structures and is in discussion with Dubai developers for the construction of floating villas and several technical platforms for a major project currently proceeding in Dubai. In Russia, the company is negotiating for the full reconstruction of the Olympic port of Sochi.
"We provide the full scope of works from hydrodynamic analysis and research of the whole water area, development of a wave protected water area with floating breakwaters, based on the analysis and research conducted, and design and implementation of a floating port, installation of floating cargo-handling and other port equipment." All Baltic Floating Structures are designed to suit individual requirements.